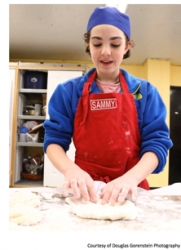 New York, NY, June 27, 2018 --(
PR.com
)-- Teen actor Sammy Voit, just 13 years old, has already established himself as an actor and a chef. Aside from appearing in a number of network shows and films, including Food Network Star Kids, Chopped Jr. and Fox's MasterChef Junior, Voit decided that he wanted to cater his Bar Mitzvah party for 200 people and use the money that would have been spent on the catering to donate to homelessness charities. Voit says, "I decided I wanted to do this because I want to make a difference. I am a kid, but why not me? I can do something to help make this world better now."
Voit says he is an artist and like acting, cooking is a way for him to express himself. "I have had a lot of people tell me I'm crazy and ask me what do I know about the number of bites needed for a party like this." However, Voit's love for cooking and his supportive family and friends helped him to create beautiful and unusual dishes. The menu included dishes like his Kimchee (made from scratch) pancakes, wacky and wild fortune cookies, the coveted Maxine's Cape Cod Cheesecake and cherry, goat cheese and basil pizza and his original spicy veggie wontons. Voit selected foods from his two favorite food genres... Italian and Asian. Voit said these tastes have mostly inspired his palette.
"I hope to inspire other kids to know they can make a difference too," Voit said.
Celebrity photographer, Douglas Gorenstein photographed the cooking journey.