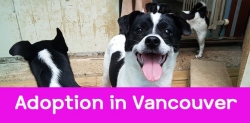 Vancouver, Canada, July 04, 2018 --(
PR.com
)-- Free Korean Dogs is expanding its outreach and adoption network in Vancouver and its surrounding areas. The information session will allow participants to meet the board of directors, as well as learn more about the organization's work and operations in regards to the dog meat trade in Korea. The goal is to build a dedicated team of volunteers to continue and expand FKD's mission in Vancouver. All participants, friends, and family are invited to attend on July 7, 2018 from 2:00 to 4:00pm at 1033 Marinaside Crescent, Quaywest Resort Residences in Yaletown Vancouver, BC V6Z 3A3
An adoption event will follow. All participants are invited to learn more about the FKD's rescue work and adoption process. Interested adopters will have an opportunity to meet Tom, Blake, Martel, Mongdal, and Benjamin, 5 beautiful rescues who were saved from slaughter from a Korean dog tonic shop. Everyone is welcome on July 7, 2018 from 5:00pm-8:00pm at Great Dane Coffee, 6011 Walter Gage Rd in Vancouver, BC V6T 1Z1.
About Free Korean Dogs
Free Korean Dogs (FKD) was founded in Toronto, Ontario, Canada on July 1, 2015 by EK Park after recognizing the suffering endured by millions of dogs each year as they are slaughtered for meat consumption in Korea. FKD works to end the dog meat trade through rescue, adoption, and awareness, and has successfully facilitated the adoption of nearly 600 dogs from Korea to Canada since its founding.
For more information, please contact:
EK Park, Executive Director
ek@freekoreandogs.org
Will Yang, Board of Directors
bod@freekoreandogs.org