Paula Saneaux's "Corpus & Auto-Objectification" to Open July 10th
Acclaimed artist from the Dominican Republic to be featured in Washington, DC solo exhibition.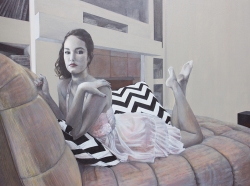 Washington, DC, July 10, 2018 --(
PR.com
)-- The Inter-American Development Bank (IDB) Staff Association Art Gallery will open a new exhibition featuring Dominican artist Paula Saneaux starting July 10, with an opening reception that evening, and will be on display through August 3. Corpus & Auto-Objectification will include recent paintings by Saneaux, including "Lanina," "Price: Purses and Shoes," "The Mentor," "Like Daughter," among others.
The works showcased revolve around women's experiences in regard to society, sexuality, fortune, and misfortune. Saneaux's subjects range from women who are misjudged because of their unwillingness to conform to society's standards; to wealthier women who objectify themselves because of the influence of media, the pressure of society, and/or mere pleasure; to prostitutes and victims of human trafficking.
Most of Saneaux's works are acrylics and range in size from 20" x 20" to 58" x 88". Influenced by artists such as Odd Nerdrum, John Currin, Tamara de Lempicka, Balthus, Rembrandt, Sargent and the Pre-Raphaelites, Saneaux delves into the human psyche, exploring lust and eroticism, human nature, manipulation of the masses, poverty, lack of education, loss of respect for traditions, and taboos, among other themes.
The exhibition is curated by noted Dominican artist Ezequiel Taveras, Artist-in-Residence at Hunter College Ceramics Department and Curator of Julio Valdez Project Space. Reflecting on Saneaux's work in Corpus & Auto-Objectification, Taveras says, "Paula efficiently handles her techniques, imbuing the drama and calamity with intimate beauty. She projects, involves, and eventually represents herself through each of her models without removing or altering their stories or personalities. She experiences their stories as her own, and recreates them with her nearly monochrome palette, where color -when it exists- is a vehicle that pushes viewers to question or reconstruct ideas through their own stories."
Saneaux says of her exhibition: "I am excited to be showing my work at the IDB Staff Association Art Gallery because it is my first solo exhibition in Washington DC and my first exhibition since I emigrated to the United States with the American Artist Green Card I received in 2016. Given the current political climate, this is a pivotal moment to show these works." She adds, "In addition to the exhibition, I will be hosting a live model drawing workshop featuring one of the models, and muses, from my paintings."
The opening reception, sponsored by the Executive Director for the Dominican Republic at the IDB, will take place on Tuesday, July 10th from 6:00 to 8:00 p.m., and is free to the public. The Gallery is a block away from Metro Center and it is open Monday through Friday from 1 to 7 pm. Guided visits with the artists will take place on July 18th and August 1st at 6:30 pm. A price list and catalogue will be available at the gallery. More information about the exhibition can be found at http://www.idbstaffassociationartgallery.org.
Event Information
"Corpus & Auto-Objectification"
Works by Paula Saneaux
Curated by Ezequiel Taveras
July 10 - August 10, 2018
Opening Reception:
Tuesday, July 10, 2018
6-8 pm
Guided Tour: July 18th and August 1st at 6:30 pm
Workshop: Live Model Drawing, Wednesday, July 25th, 6:00 - 9:00 pm
The featured model for the workshop is also one of the models from paintings in the exhibition.
IDB Staff Association Art Gallery
1300 New York Avenue, NW
Washington, DC 20577
202-623-3035
Gallery Hours: Monday-Friday 1-7 pm
About Paula Saneaux
Paula Saneaux is a contemporary painter who portrays stories of women. She has been awarded national and internationally, with prizes such as The Elizabeth Greenshields Foundation Grant, Bludhorm Award, Pedro Henriquez Urena Award, Parsons The New School of Design's Full Scholarship, and more. On January 2016, she received the USA EB1-1 Green Card for "Artists of Extraordinary Ability."
Her art collections are held in Brussels, Madrid, Mexico City, Miami, New York, Rome, Santo Domingo, Turin and Washington D.C., and in important institutions of the Dominican Republic, her country of birth, such as Cándido Bidó Museum, the Central Bank of the Dominican Republic and Funglode of former Dominican President Dr. Leonel Fernández. Also, her artwork has been shown in prestigious Dominican venues such as the Museum of Modern Art (MAM), Centro León Museum, the National Gallery of Art, and others.
Her paintings are mainly created in acrylics and are characterized by gray, dark and/or primary colors because of a melancholy her characters represent. She portrays stories, feelings or interpretations about female objectification, female self-objectification, the fragility of life and social standards. For more information, visit
paulasaneaux.com
.
Contact
Paula Saneaux
434-249-0790
paulasaneaux.com

Contact