Mallory M. O'Connor Honored as an Outstanding Author by P.O.W.E.R. (Professional Organization of Women of Excellence Recognized)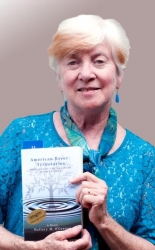 Gainesville, FL, August 29, 2018 --(
PR.com
)-- Mallory M. O'Connor of Gainesville, Florida has been honored as an Outstanding Author by P.O.W.E.R. (Professional Organization of Women of Excellence Recognized) for her outstanding contributions and achievements in the field of publishing.
About Mallory M. O'Connor
Mallory O'Connor is the President of oconnorartLLC, an art consulting company that combines the talents of artist John A. O'Connor and art historian/writer Mallory M. O'Connor to offer a variety of art and art related services including purchasing John's paintings or prints, obtaining assistance in organizing and designing an exhibition or booking an exciting speaker for a group. oconnorartLLC brings their clients¾corporate and private collectors, interior designers, non-profit organizations, private and public institutions, and individual artists, years of experience, knowledge and personal integrity. Florida residents for over forty years, the O'Connors have been active in the art scene in Gainesville and throughout the state as well as nationally and internationally as artists, teachers and administrators.
Mallory's expertise is as a curator, exhibition designer, writer and lecturer. She is an author specializing in publishing and creative consulting in art history education who also creates original art. In addition, she is a musician. At oconnorartLLC, Mallory serves as an exhibition designer and guest curator for various clients, lecturer, evaluator and lecturer for the Florida Humanities Council, grant writer and author. Some of her previous positions include teaching art history classes and serving as a gallery chief curator. She is Professor Emerita of Art History at Santa Fe College in Gainesville, Florida. Mallory graduated with an M.A. in American History in 1968, an M.F.A. in Art History, in American and Oriental Art in 1970, and a B.F.A. in Art, with Honors from Ohio University in 1966. She completed post-graduate work at the University of Florida in Gainesville in Journalism and Public Relations in 1983.
Ms. O'Connor has written several books, including two non-fiction books, "Lost Cities of the Ancient Southeast," "Florida's American Heritage River" and a novel, "American River: Tributaries." She recently won First Prize in the fiction category from Northern California Publisher and Authors for her debut novel, "American Rivers Tributaries" Book One of the "American River Trilogy." She is a former Board Member of the following associations: Arts Association of Alachua County, Institute for Learning in Retirement, Dance Alive Ballet Company, Superfund Art Project and she is a Vice President of the Writer's Alliance of Gainesville.
Mallory has had a life-long fascination with art, music, and the natural world which led to her career in art history and to a second career as an author. In her spare time, she enjoys art, music and travel.
For further information, contact
www.oconnorartllc.com
.
About P.O.W.E.R. (Professional Organization of Women of Excellence Recognized)
P.O.W.E.R is a website as well as a digital and print magazine featuring professional and famous women. Our mission is to provide a powerful network of empowering women who will mentor and inspire each other to be the best they can be. Through our valuable services, our members can collaborate with like-minded professionals, gain recognition and obtain knowledge from those who have already achieved success.
Contact
P.O.W.E.R. (Professional Organization of Women of Excellence Recognized)
S. K. Koop
516-365-3222
www.powerwoe.com
Ellen Gold

Contact