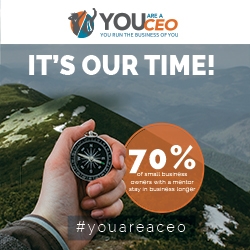 San Francisco, CA, July 24, 2018 --(
PR.com
)-- SF Bay Area award-winning author, entrepreneur and CEO, Michael E. Parker is pleased to announce the launch of You Are A CEO. Positioned as a success-minded community, this movement promotes the essential skills required for personal and professional success. Parker has been spreading his message about You Are A CEO for almost two decades to schools, public offices and Fortune 100 and 500 companies. Clients include Kaiser, Genentech, Berkeley Police Department, Contra Costa County, Cal State East Bay, and many more. He has proven anyone can become the CEO of their life and many have joined his team of inspiring agents for change. His passion is to help motivated individuals improve their readiness for success in life, career, and business. Topics include: How Essential Technology is to Success, Life Balance, Time Management, Financial Mastery and Debt Free Living, Effective Communication to Solve Conflict in Relationships, Parenting and more. He is also passionate about how to become a resounding and effective leader people respect and how to develop a diverse core team who will sustain high performance at all times. Live event will be held at the Courtyard Marriott in Emeryville at 1 pm. Event will also be broadcast live. Register at:
https://www.eventbrite.com/e/you-are-a-ceo-event-its-our-time-tickets-47979269286
Many leaders fail simply due to the lack of ability to genuinely connect with others. You Are A CEO provides effective communication skills help you say what needs to be said in a palatable way while developing trust and building positive relationships that foster mutual respect. Ineffective leaders are unable to lead teams through challenges, policy changes and to lasting efficiency. This movement is for everyone interested in personal development, professional development, entrepreneurship through e-learning resources, online TV, digital tools/apps and live events. Parker says, "These tools will provide the missing links so many desperately need." Crediting his team for staying with him despite setbacks and failures, Parker states that his core team has been with him since he started out as an entrepreneur almost 20 years ago. Distinguishable achievements include winning the Jefferson and 40 Under 40 Awards.
Mentoring and coaching is exclusive for the members of the CEO Success Club. The new program is expected to release four assessments at the live event on Saturday July 28th at 1pm - 3pm PST at the Courtyard Marriott in Emeryville. They are focused on increasing their member's Success iQ which ultimately will improve their self awareness, personal improvement, and professional development.
His Chief Marketing Officer Lela Smith says, "His words have resonated with thousands throughout the country. In the new age of a digital lifestyle, people have a blurred line between their personal life and work. Some people have access to cutting-edge tools and mentors that make them extraordinarily successful. Others struggle with life balance, time management, money management and relationships that can impact their outlook on happiness and success. Success in business and in life takes discipline, and a set of specific tools that I learned from Mr. Parker. I am so glad he is sharing them now with others who can impact the world and make this a better place for us all. Our personal and work lives are intertwined and there is no escaping that."
His story starts with his journey through hardships, opportunities, challenges and successes, and how he used his experiences to develop life-altering strategies and methodologies that can be applied in life, career and business.
This award winning speaker appeared at the NAACP after Keynote President Obama. He was also handpicked by Akio Toyota and mentored extensively. This CEO shares his philosophy and tactics used to master himself, his team and taught to thousands across the US and abroad.