Get Lapel Pins Supports Women's Confidence Training at Top Buttons
Sales of the "I Am Not An Object" pin produced by Get Lapel Pins will sponsor women at the Wearing Confidence Program from the nonprofit Top Buttons.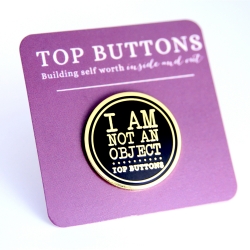 Lakeland, FL, July 25, 2018 --(
PR.com
)-- The purchase of a little lapel pin with a big message will connect young women with the Wearing Confidence Program organized by the nonprofit Top Buttons Inc. Get Lapel Pins has provided the 1-inch square hard enamel pins that display in gold lettering "I Am Not An Object" to promote the value that women have to offer their communities.
Top Buttons organizes professionally presented educational sessions that teach women to tap into their confidence. Support includes providing attendees with properly fitted clothes that will aid them in making great impressions that communicate their talents and skills. Every sale of the $5 pins donated by Get Lapel Pins, a maker of
custom lapel pins
, will contribute to the $100 per person cost of attending the Wearing Confidence Program. The company plans to raise $500 to pay for five women to participate in the empowerment training.
Mac Masters, the owner of the company that makes promotional products, said, "It is such an honor to work with Top Buttons. After seeing their beautiful shop in downtown Lakeland and learning more about their Wearing Confidence Program, we wanted to find some way to get involved and contribute."
The "I Am Not An Object" pin is available online at the Get Lapel Pins web page found at https://getlapelpins.com/topbuttons.
The special limited edition enamel pins can also be purchased at the boutiques operated by Top Buttons, and at several other participating stores in Lakeland. The Top Buttons shops are located at 236 N. Kentucky Ave. in Lakeland and 160A E. Summerlin Street in Bartow. In Lakeland, customers can visit the store Monday through Friday from 10 a.m. to 6 p.m. and Saturday 9 a.m. to 5 p.m. In Bartow, store hours are Monday through Friday 11 a.m. to 6 p.m. and Saturday 9 a.m. to 2 p.m. More information and an up-to-date list of where pins are available can be found on Get Lapel Pins' website.
Sarah Powers, Top Buttons CEO, said, "Young women have far more to offer than their bodies. They have talent, skills, and personality! They have a unique purpose which only they can fulfill. They are not objects and we want to make sure people don't treat them that way."
Top Buttons is a 501(c)(3) nonprofit that reaches out to at-risk women in the Lakeland area. The organization funds confidence building seminars and wardrobes for women through sales to the public at its boutiques. Community members may also contribute by buying the pin, donating clothing, and volunteering.
For more information about this fundraiser and custom lapel pins, use the form at https://getlapelpins.com to contact Get Lapel Pins.
Contact
Get Lapel Pins
Mac Masters
(863) 559-3331
getlapelpins.com

Contact