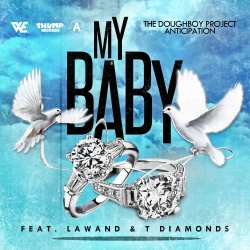 Brea, CA, July 26, 2018 --(
PR.com
)-- The Doughboy Project led by DJ Doughboy is back at it with the release of his new singles "Body" & "My Baby" featuring some of today's best tracks in the DJ Music landscape. His ability to deliver sounds from ­­a collective of genres makes his music stand out against the rest. Working with a list of celebrities like Queen Latifah, Naughty by Nature, and VH1's Love & Hip-Hop crew has given him the confidence to create quality music in all of its form. Combining elements from jazz, hip-hop, reggae, and even rock, he's able to appeal to most audiences and bring to life relatable tracks for listeners from all walks of life. Legend has it he learned how to read at the age of two from all the album covers he could get his hands on. His passion for music quickly evolved as he started with his first turntable at the age of ten.
His inspiration for music comes from the journey he's encountered while rising to the top. As a road DJ for Joe Budden, he's played all over the world from Africa, to Hawai'i and everywhere in between. When asked about his most influential performance, DJ Doughboy humbly responded, "It took place in my hometown at the New Jersey Performing Arts Center. To be back in my hometown as the first DJ to play on this stage was more memorable than any performance I can think of." His versatility also solidified his remix of Thump artist, Frenchy Made's, new single "Summertime 2 Remember" into a brand new music video to be released in August.
Find his two new tracks "Body" & "My Baby" out now on all digital outlets: Pandora, Spotify, iTunes, Youtube. etc. As well as anywhere music is sold and streamed online.
Songs: "My Baby" & "Body"
Artist: The Doughboy Project
Available Now
DJ Doughboy Biography
New Jersey Native, DJ Doughboy was naturally gifted with inherent abilities to work the turntables. His career has led him to experimentation and songwriting for projects with Hip Hop & R&B's legendary and entertainment artists including Queen Latifah and 3LW. He was even selected as the official Road DJ for VH1's Love and Hip-Hop star, Joe Budden. DJ Doughboy has been elevating his career even further with the release of some new EP's with artists ranging from R&B, Hip-Hop, and EDM, as well as hits playing on some of New York's leading radio stations.
https://itunes.apple.com/us/artist/the-doughboy-project/1180763324