BlitzPredict's Real-Time Aggregator Feature Scans Multiple Sportsbooks for Best Odds
Platform Launches Blockchain-Powered Research Tool in Time for NFL Season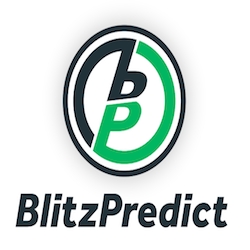 Las Vegas, NV, July 31, 2018 --(
PR.com
)-- BlitzPredict, a global, blockchain-powered data and analytics platform focused on sports and eSports wagering, announced today the launch of its aggregator feature which scans the marketplace in search of odds and point spreads that give bettors the best chance for success.
The aggregator will initially pull information from the data feeds of 12 different sportsbooks, including William Hill, Pinnacle, BetCris, 5Dimes, Caesars and others, with more to come. The platform will eventually aggregate betting options from over 100 sportsbooks and prediction markets in real time, providing access to the best odds available at any given moment. The introduction of the aggregator comes as BlitzPredict prepares to launch its NFL content this week.
"The BlitzPredict aggregator, taking real-time data from multiple sportsbooks and identifying the best available odds, is a game-changer," said Bret Richey, BlitzPredict founder and CEO. "Our ability to record all real-time data to the blockchain is a disruptive breakthrough that is going to have a profoundly positive impact on sports wagering."
BlitzPredict is the first company to record sports predictions to the blockchain, time-stamped against true market odds, to provide a permanent, verifiable record of real-time odds and outcomes. The web app was released in June, launching analytics models for Major League Baseball and FIFA World Cup where it had a 56.5% success rate. The platform currently offers odds on MLB, soccer including MLS, Champions League and Premier League, plus MMA and WNBA. Boxing will launch in September. More than 80 experts, with their predictions and results across multiple sports, are featured and ranked on the site.
Blockchain technology allows BlitzPredict to verify the performance of the oddsmakers and predictors, eliminating the risk of altered records or false claims of success. "We actually expect results to improve as the aggregator tool is used by experts to find the most favorable odds," said Richey.
Sports betting is one of the best applications for blockchain technology because of its capacity to reduce disputes and increase trust. BlitzPredict is using sophisticated Fintech to bring powerful analytics and much-needed transparency to an industry that is poised for tremendous growth.
BlitzPredict will soon expand its focus to the eSports market, launching tournaments, and implementing "smart contract" betting functionality which will enable users to execute pre-set wagers when optimum criteria are met, similar to stock price triggers.
The platform utilizes the BlitzPredict token XBP for certain features, including smart contract betting, accessing winning models and entering tournaments. For many users, BlitzPredict will be the first experience they have had with cryptocurrency and blockchain. The ERC-20 tokens are available for purchase on Cryptopia, HitBTC, and decentralized exchanges including Bancor and Idex. BlitzPredict will soon announce a solution for converting fiat currency to XBP on the site.
About BlitzPredict
BlitzPredict
is a global platform that opens a new world of opportunity for sports bettors. Using smart contract tools and blockchain technology, users gain access to the best lines available in the market at the time of a bet. BlitzPredict offers access to advanced analytical models and a suite of customizable tools powered by smart contracts, including recording predictions to the blockchain, time-stamped against true market odds.
Media Contact:
Brewer Owen
bowen@fwv-us.com
919-277-1181
Contact
French West Vaughan
Brewer Owen
919-277-1181
fwv-us.com

Contact