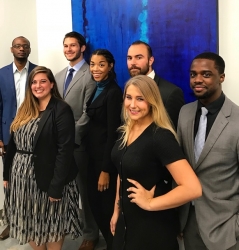 Raleigh, NC, August 09, 2018 --(
PR.com
)-- In today's world, people are encouraged to discuss topics that some may find uncomfortable but sometimes the discussions of uncomfortable topics are the most necessary. Acquire believes "diversity in the workplace" is one of those topics so they took the opportunity to sit down with some of their team members to dig a little deeper and find out why this is important to them.
Since its inception, people have traveled from all across the world to the U.S. in search of a safer, more prosperous life. Each year more and more people are moving from other states within the U.S. to Raleigh, NC. Thus, making Raleigh a melting pot of diverse cultures. As the city of Raleigh becomes more multicultural, so has Acquire.
"Because our company was built around a unified team vision, we welcome diversity in the workplace as diversity offers a stronger fabric to our company tapestry. Each member of our team brings an immense deal of benefits to our company through their diverse experiences, skill sets and out looks, which is what makes a great team!"
- Zack Schuch, Acquire's National Director of Operations
"At Acquire we embrace diversity and go to great lengths to make each individual feel welcomed from the moment they start our vetting process into their employment with us. We have found this ethos significantly enhances our company culture."
- Grant Gulledge, Sr. Director of Operations at Acquire
According to the latest estimates from the U.S. Census Bureau, Raleigh is currently one of the fastest growing cities in the country and in 2017 reached over 1 million residents, which was a new record for Wake County. Over the last four years alone Wake County has grown by 100,000 people and with that type of growth, comes a remarkable amount of diversity.
"Living in a community where diversity is prominent, we at Acquire want to accommodate a diverse group of people within our company and so far we have done a good job with this."
- Rebecca Sampson, Sr. Talent Lead at Acquire.
The increasing diverse population of the Raleigh-Durham area is bringing an army of elements to the local community, ranging from ethnicity and religion to gender and age. And while diversity can be a complex concept, by speaking to the Acquire team we learned the importance of an interwoven tapestry of a diverse company culture.
To learn more about Acquire's future initiatives, campaigns and events, visit their website at acquireraleigh.com.