Luminit Announces Light Shaping Micro Optics Capabilities for LIDAR, Time of Flight, Facial ID and Eye/Head Tracking
The company now offers in-house direct-writing of masters to bring custom micro-optics design from conception to high volume production.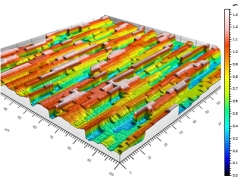 Torrance, CA, August 09, 2018 --(
PR.com
)--
Luminit
LLC, a privately held high technology company specializing in fine optics and holographic light shaping diffusers, announces new Light Shaping Micro Optics capabilities for LIDAR, ToF, facial ID, and eye/head tracking applications. In-house direct-writing of masters, along with greyscale photolithography and advanced microscopy tools, allow pixel-by-pixel design and write capabilities for a full-range of micro-optics solutions at high volume production levels.
"LIDAR, time of flight, facial recognition and similar advanced technologies are growth areas, and Luminit continues to develop high-performance optics to meet market demand," notes Suleyman Turgut, Vice President of Sales & Marketing at Luminit, LLC. "With Light Shaping Micro Optics, we can design, master, replicate, test and measure under one roof and our customers benefit from reduced time-to-market and simplified supply chains."
Luminit's new capability in greyscale photolithography allows the creation of advanced refractive (micro lenses, prisms, Fresnels) and diffractive optics (CGH, phase plates) with feature sizes down to 1 micron. Optical outputs include flat-top intensity profiles, structured lighting (random dot generators, pattern generators), and custom illumination shapes (square, rectangular, logos). Luminit is now able to manufacture a variety of precise digital and analog micro optics that can later be replicated on a variety of plastic and glass substrates depending on thickness, temperature, and volume requirements.
According to the company, Luminit's new offering of Light Shaping Micro Optics provides customers with the ability to bring their designs straight from concept to high-volume production in a matter of weeks.
Contact
Luminit
Mary Ann Giorgio
310-320-1066
www.luminitco.com

Contact