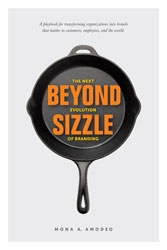 Palmyra, VA, September 04, 2018 --(
PR.com
)-- Beyond Sizzle: The Next Evolution of Branding is a playbook for building a brand that matters.
Brands that matter are companies we love to love because they stand for something more than what they sell. They have earned a reputation not only for delivering quality products or services but also for being great places to work, for pushing their industries forward, and for striving to make a positive difference in the world.
"It's clear that 'doing well by doing good,' once considered a brand of charities or fringe businesses, is now a brand appropriate to many, if not all, organizations," says author Dr. Mona Amodeo. "Beyond Sizzle will help readers understand how to build that brand for their organization, one that will not only help them thrive economically but also have a positive impact on customers, employees, and the world."
Readers who have enjoyed the works of Wally Olins, Dr. Mary Jo Hatch, Simon Sinek and books like The Brand Flip will benefit from Amodeo's approach.
Amodeo uses her research with global carpet manufacturer and sustainability pioneer Interface to build a case for what's possible when people are fully engaged in working for something they believe in and feel connected to. The research answered her question about if and how a company, not born with the DNA of sustainability values, could change its culture. What she learned, and describes in detail in her book, is that organizations don't need to choose between profit and social responsibility, they can have both. Beyond Sizzle shows how.
Beyond Sizzle: The Next Evolution of Branding, published by Maven House Press, is available now at most storefront and online bookstores.
About the Author
Mona Amodeo, Ph.D., is a catalyst for transforming organizations into brands that matter. As the founder of the Florida-based branding consultancy idgroup, Amodeo leads a team of dedicated experts with a vision to move business-as-is to business-as-it can-be. Prior to opening idgroup in 1989, Amodeo was a broadcast journalism instructor and international documentary producer at the University of West Florida. She earned a Ph.D. in Organization Development and Change from Benedictine University and a master's in Communication Arts from the University of West Florida.
About Maven House Press
Maven House is an independent publisher specializing in forward-thinking business and personal success books by executives, business owners, educators, and other experts. Its titles are distributed worldwide by Publishers Group West (PGW)/Ingram. For more information visit mavenhousepress.com.