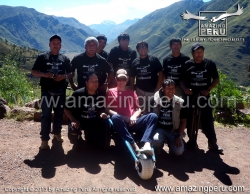 New York, NY, September 07, 2018 --(
PR.com
)-- Amazing Peru is making a difference in Latin America
South America may seem like an unconventional choice for disabled travellers, but many countries here, including Peru have made great progress in improving their cities to be more accessible and wheelchair friendly.
Getting to Machu Picchu is difficult to reach, but especially if you need help in walking or use a wheelchair.
Amazing Peru and Beyond
however is not your ordinary travel company; it was the first luxury Latin American based travel company along with the first private jet aviation company which helped develop the original Luxury Inca Trail to Machu Picchu. With several National Geographic Awarded Tours and recommended by some of the most renowned travel professionals worldwide, Amazing Peru and Beyond had made its mark.
However, a new accolade is a new beginning. The beginning of a new life and a deep desire to show others the real Latin America.
When they launched "Amazing Peru Disability Travel," a travel program which invites disabled people filled with adrenaline to take part in (sometimes) extreme sports in Latin America, who would have thought that one of the highlights of their numerous operated
disability tours
would be an amazing
Inca Trail Adventure with two wheelchair users and a film crew. Steve Gleason a former NFL football player who under the most difficult of circumstances experienced a seemless tour with many stories to tell. This documentary was televised by the NFL and shown on USA TV.
With their team of expert assistants who have work experience in the Andean Mountains of Peru and the Himalayas, we made it possible to trek the 2 day Royal Inca Trail for two wheelchair-bound travellers as never before. This tour is an upscale adventure allowing for mobility-challenged individuals the chance to access Machu Picchu via the original Inca Trail, a truly unique journey that will empower all those who accomplish it.
Steve Gleason played for The New Orleans Saints, he will always be remembered for his blocked punt on the night the Louisiana Superdome reopened for the first time after Hurricane Katrina. In 2011 Steve was diagnosed with ALS, considered a terminal neuromuscular disease. Beyond his faith that there is a solution to heal, it is his mission to show that patients can not only live but thrive after this diagnosis.
He continues: "What we really would like to show is the possibility for disabled people to travel and live their everyday life being able to travel around and play an active role within our society.
"Going to travel is not difficult because these locations are inaccessible, but simply because it is hard to get to them."
In an effort to make travel more accessible for others, Amazing Peru opened their division Amazing Peru Accessible Travel, a travel company specializing in wheelchair-friendly, mobility tours.
Amazing Peru believes more companies and more Latin American countries should work with and invest in accessible sites and facilities for the disabled.
"There is a need to build a business focused on allowing people to go out of their houses, and travel and live free of barriers."
Surprisingly, The Galapagos Islands are also not out of reach for disabled travellers. Most tours to the Galapagos are cruises but we also pioneered the land based Galapagos Tours - which is an excellent way to travel for disabled travellers. The opportunities to observe diverse wildlife up close is without equal - if you are a photographer this is the trip for you.
Traveling with a physical disability is a challenge but it doesn't have to feel impossible. There's almost nowhere in the world that disabled travellers cannot now visit.
For further information, interviews or imagery, please contact:
In-house PR contact:
Nicole Wagner
T: 1 800 704 2915
W: www.amazingperu.com
E: info@amazingperu.com