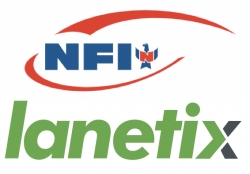 San Francisco, CA, September 10, 2018 --(
PR.com
)-- Lanetix,
www.lanetix.com
the leading provider of CRM software for the global logistics and transportation industry, announced today that NFI,
https://www.nfiindustries.com/
the fully integrated supply chain solutions provider headquartered in Cherry Hill, N.J., selected Lanetix for its Transportation Management division.
NFI's brokerage and transportation management operations have experienced double-digit growth for the past six years as a result of its commitment to incorporate modern technologies. David Broering, NFI's President of Non-Asset Solutions, said, "Our innovative supply chain solutions span dedicated transportation, warehousing, intermodal, global logistics, drayage and commercial real estate."
"With Lanetix, we found a software partner that is as committed to innovation as we are," Broering continued. "The Lanetix CRM software embraces the complexity of the logistics industry by giving us — the business users (and not just the third-party consultants) — a collaboration platform to innovate, adapt our processes and launch new services in record time."
NFI's Transportation Management division uses the Lanetix software to accelerate the pace of onboarding complex customer supply chain solutions, reducing risk, delighting customers and offering differentiated services. Lanetix's dynamic business process modeling platform speeds time-to-value by reducing data hand-offs between team members in the supply chain solutions team.
"NFI understands that supply chains have an integral role in the success of a business," added John Golob, founder of Lanetix. "With NFI's illustrious history, track record of innovation, consistent growth, and strong leadership, we couldn't be more honored to align our software with their vision to delight their customers."
About NFI: NFI is a fully integrated North American supply chain solutions provider headquartered in Cherry Hill, N.J. Privately held by the Brown family since its inception in 1932, NFI generates nearly $2 billion in annual revenue and employs more than 10,000 associates. NFI owns facilities worldwide and operates 41.5 million square feet of warehouse and distribution space. Its dedicated and drayage fleet consists of over 4,000 tractors and 9,000 trailers, operated by more than 2,600 company drivers and 1,600 owner operators. Its business lines include dedicated transportation, warehousing, intermodal, brokerage, transportation management, global logistics, drayage, and commercial real estate services. For more information about NFI, visit www.nfiindustries.com or call 1-877-NFI-3777.
About Lanetix: Lanetix is the world's only CRM software exclusively for the global logistics and transportation industry. The Lanetix suite of software increases RFP bid desk and global tender win rates, drives customer accountability while reducing fall downs, eliminates scope creep and compresses the QBR process from months to days. Freight forwarders, carriers, domestic brokerage, LTL and intermodal providers turn to Lanetix, instead of one-size-fits-all CRM's built for discrete product manufacturers. With flagship customers such as DHL, Kuehne + Nagel, Li and Fung Logistics – and thousands of subscribers across Europe, North America, Asia and the Middle East – Lanetix is backed by Salesforce Ventures, Vertical Ventures, B-Capital, Jackson Square Ventures, Primera Capital and Manzanita Capital. Learn more at
www.lanetix.com
.