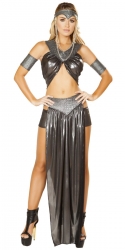 Los Angeles, CA, September 11, 2018 --(
PR.com
)-- With Halloween fast approaching, Musotica has launched their latest Halloween collection for 2018, taking inspiration from the goddesses of hip-hop and pop.
The Halloween range is centred around goddess costumes, taking influences from ancient civilizations, mythology and musicians.
With an extensive selection of standard and plus size items this fall, Musotica has added a variety of new costumes and cosplay items to their Halloween collection.
These new costumes have been curated by Musotica, with a variety of styles and color options available. The
goddess collection
focuses on feminine power and beauty, taking influence from the fashion of music videos and events.
It takes fashion inspiration from celebrities including Katy Perry, Nicki Minaj, Beyoncé and Cardi B. As well as taking influences from traditional Egyptian, Grecian and Roman styles.
When asked about the collection, Musotica founder and celebrity stylist, Sarah Wallner said: "We wanted to take influence from hip-hop and pop musicians who have been killing it of late, the goddess style is effortlessly glamorous, powerful and feminine - and totally on trend."
The collection focuses on maxi dresses, with a selection of styles across the range with accessories including headbands, wristbands and belts.
"This collection nods to mythological and traditional styles, with the glitzy accessories bringing the costumes well and truly to life," Sarah added.
Musotica offers an extensive collection of Halloween and cosplay costumes via their online store.
If you need tips, advice or further inspiration this Halloween, read Musotica's latest blog post: Halloween goddess fashion takes it's influence from the world of hip-hop and pop.