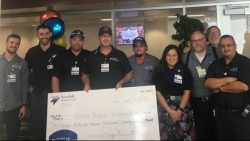 Englewood, CO, September 15, 2018 --(
PR.com
)-- Swedish Medical Center has announced Rich Huggins as the 2018 Employee of the 2nd Quarter. The award is part of the hospital employee excellence recognition program to recognize employees who uphold the hospital standards and values every day. Rich was nominated by his peers at Swedish due to the incredible work he does to maintain hospital operations.
"We are glad to honor your hard work, availability and dedication," said Ryan Simpson, chief operating officer at Swedish Medical Center. "We want to recognize you to say thank you."
Rich, a master electrician at the 408 bed level 1 trauma center, was honored by a congratulatory party including facility staff, directors, and friends. "Rich is always looking at ways to make Swedish a better place for coworkers and patients," said Chad Johnson, director of facilities at Swedish. "He is amazing at working through difficult situations."
The Swedish Excellence Awards recognition program is designed to recognize employees at Swedish Medical Center who exemplify the hospital values while continuing to go above and beyond. One employee winner is selected quarterly and is then entered as a nominee for the coveted employee of the year.
About Swedish
Swedish Medical Center, part of HCA's HealthONE, is located in the south metro Denver area where it has been a proud member of the community for more than 110 years. An acute care hospital with 408 licensed beds, annually Swedish cares for more than 200,000 patients with a team of approximately 2,000 dedicated employees, 300 volunteers and 1,400 physicians.
With stroke door to treatment times averaging just 20 minutes, Swedish serves as the Rocky Mountain Region's referral center for the most advanced stroke treatment, and was the state's first Joint Commission certified Comprehensive Stroke Center. Swedish also serves as the region's neurotrauma and orthopedic trauma provider and is the area's only level I trauma facility with a dedicated burn and reconstructive center. Over 150 facilities regularly transfer highly complex cases to Swedish.
Swedish Medical Center offers patients the highest quality care and the most advanced technologies and treatments in nearly every medical specialty including adult and pediatric emergency, heart care, neurology/neurosurgery, pregnancy and childbirth, orthopedics and joint replacement, cancer care, gastroenterology and liver care, gynecology and urology. Additional information about the hospital is available at www.SwedishHospital.com.