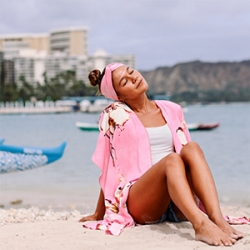 Honolulu, HI, September 15, 2018 --(
PR.com
)-- The 'Akala (Pink) Collection features four women's apparel styles, a heart pillow, mermaid dolls, candles and diffusers in limited edition Jams World "Sweet Pea," an original hand-painted piece of art. Warm hues, delicate brush strokes, and lush florals make this piece of art feminine and beautiful. The Men's and Kids' apparel 'Akala (Pink) Collection, a scenic "Niihau" piece of art, features an enduring aspect of life on the Forbidden Island. Where there are no paved roads, no cars, or stores. The Sweet Pea Plant and island of Niihau both represent the strength and endurance of individuals fighting this deadly disease. "When looking for the best Art in our collections that would best represent this cause, we just couldn't decide on just one piece of Art. What the Hawai'i Pacific Health Cancer Center at Pali Momi Medical Center has done and continues to do for people of Hawaii is just too special. We decided we needed to produce two pieces of Art to represent their cause. Our 'Sweet Pea' artwork features a plant which grows 6 to 8ft tall known for its color diversity and sweet fragrance. The second piece of Artwork 'Niihau' represents an untouched gem in our island chain," said Heather Rochlen, Jams World Vice President. "Each apparel piece of this collection is a limited edition Jams World wearable art piece, Made in Hawaii." The 'Akala Collection can be found at the following locations: Jams World Keauhou Center, Shops at Mauna Lani, Ko Olina Center, Ward Village, Surf Line Hawaii International Marketplace Waikiki and online at jamsworld.com.
"Pali Momi Medical Center is honored to have Jams World's support for cancer care with this customized pink aloha wear campaign," said Art Gladstone, CEO of Pali Momi Medical Center and Straub Medical Center. "This initiative supports both our fundraising efforts and our outreach to the community. This campaign will bring awareness to cancer treatment and how patients in Hawai'i benefit from having comprehensive care close to home at the Hawai'i Pacific Health Cancer Center at Pali Momi Medical Center."
Hawai'i Pacific Health Cancer Center at Pali Momi Medical Center is the first integrated center of its kind serving Central and West Oahu and the only program in the area nationally accredited by the American College of Surgeons Commission on Cancer. Designed with the patient experience in mind, the center offers physician consultations, infusion therapy, cancer navigation services and more, including radiation oncology through a collaboration with the Cancer Center of Hawaii.
For more lifestyle and product images please click on link below:
https://www.dropbox.com/sh/l4uithn8tujbapi/AABmmaoD4cKUblJYRPceCevIa?dl=0
Jams World
The Jams World of today celebrates over 50 years of color, freedom, difference & love. Founder, Dave Rochlen, grew up surfing the California beaches. In 1962, Dave was transferred to Hawaii for work and "uncomfortable with the government industrial complex" left his job and opened a surfboard shop called Surf Line Hawaii on Kona Street in 1964. The company collects art from around the world, and each of their garments are a timeless piece of art. The art is screened in long lasting, stay true color on our exclusive 100% Spun Crushed Rayon. The fabric keeps you cool and just feels good. Their limited edition collections are cut and sewn in their Honolulu, Hawaii factory. Each print has coordinating hand-painted buttons created just for Jams World by a California artist. Jams World has remained a Hawaii-based, multi-generational company dedicated to quality, individuality, and style which can be seen in each piece created. The company operates five retail stores located on Oahu and on the Big Island of Hawaii. Jams World products can also be found among authorized dealers throughout the United States and online at www.jamsworld.com.
Pali Momi Medical Center
With 118 beds and more than 450 physicians on its medical staff, Pali Momi Medical Center offers a full range of services for the communities of Central and West O'ahu. The hospital has delivered many medical firsts for the community, including Central and West O'ahu's only interventional cardiac catheterization units to detect and treat heart disease and the largest comprehensive center for cancer care. It is designated as a Level III Trauma Center as well as a Primary Stroke Center, which recognizes its high quality care for stroke patients. Pali Momi also has a fully integrated minimally invasive surgical suite, emergency services, a comprehensive women's center, CT scan and MRI services, and the state's first retina center. The hospital is an affiliate of Hawai'i Pacific Health, one of the state's largest health care providers and a not-for-profit health care system with over 70 locations statewide including medical centers, clinics, physicians and other caregivers serving Hawai'i and the Pacific Region with high quality, compassionate care. In addition to Pali Momi, Hawai'i Pacific Health includes Kapi'olani Medical Center for Women & Children, Straub Medical Center and Wilcox Medical Center. Learn more at PaliMomi.org.