Morningstar Introduces "Energy Storage Partner" Program at SPI
A leader in solar charging technology, the company inaugurates a program with 5 high-profile lithium battery brands to make advanced storage easier and more seamless for installers.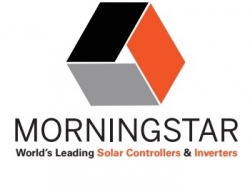 Anaheim, CA, September 24, 2018 --(
PR.com
)-- At Solar Power International (SPI) on September 25 -27,
Morningstar Corporation
will be celebrating its 25th anniversary in renewable energy leadership and announcing a new program designed to make life easier for solar designers and installers: The Energy Storage Partner program, or ESP. The program makes it possible for recommended battery partners to offer additional value and support to their customers by providing them with a more proven, better documented and controlled storage system.
Initially, Morningstar's program is a joint effort in conjunction with five leading advanced battery brands: Discover Battery, NEC Energy Solutions, PowerPlus Solutions, RELiON, and SimpliPhi. This partnership between storage and charging experts will enable both to share and grow their competencies and deliver the full benefits of solar-plus-storage to end users.
According to numerous industry studies, energy storage represents the driving growth segment in solar. Residential storage alone in North America has a projected Combined Annual Growth Rate of over 80% between now and 2021. Both off-grid and grid-connected energy storage will experience comparable growth in rural, security, communications and other applications.
"SPI itself is now marketed as the largest 'solar plus storage' event," notes Morningstar president and co-founder Lee Gordon. "If storage is indeed our growth engine, then it's a natural area for Morningstar to lead. We're recognized throughout the industry as the experts in solar charging since 1993, we've sold over four million products in that category, and our charging portfolio today includes some 30 models spanning 12 product lines. As storage goes mainstream, it's inevitable that battery companies will want expert collaboration for more seamless integration into complete systems. And that's why we developed ESP."
Morningstar's ESP program is designed for simplicity and transparency. At the Recommended Level, it first involves testing and evaluating batteries to ensure compatibility and quality. Next is documenting all critical commissioning information needed to successfully set up an "open loop" or add-on energy storage system, including set-points, charging data, and relevant settings. Finally, an additional Recommended & Certified level supports "closed loop" systems with a higher level of interaction and control between system components. This level offers pre-sets and custom options along with comprehensive documentation, achieving a truly "plug and play" system built to fully-mapped standards.
The ESP program goes into effect October 1, 2018, with the five partner battery brands. Morningstar's flagship TriStar and ProStar solar charge controllers will be the first products used in the program. See Morningstar's new program and other innovations at Solar Power International, booth 1924, September 25-27.
About the Energy Storage Partners (in alphabetical order):
Discover Battery of Richmond, BC Canada is a world leader in designing and manufacturing transportation, motive power and advanced energy storage solutions https://discoverbattery.com/
NEC Energy Solutions in Westborough, MA is widely recognized as a pioneer and leader in the market for utility scale energy storage. NEC's ALM series is ideal for tough, critical off-grid applications https://www.neces.com/
PowerPlus Solutions (Bayswater, Vic) offers rack battery systems that are precision-crafted in Australia for that market, and represent a reliable storage solution for AC and DC-coupled, on and off-grid solar systems http://www.powerplus-solutions.com.au/
RELiON of Charlotte, SC. specializes in a wide range of unique, integrated energy storage products. RELiON's wide line provides a popular drop-in replacement/upgrade solution for lead-acid https://relionbattery.com/
SimpliPhi in Ojai, CA has a rich legacy from its roots in off-grid power for the film industry. The brand's PHI batteries today set a standard for performance, safety and reliability in high-profile commercial and residential energy systems https://simpliphipower.com/
About Morningstar: With well over 4 million products installed and sold since 1993 - in some of the most extreme environments and mission-critical applications in the world - Morningstar Corporation is truly "the world's leading supplier of solar controllers and inverters." The US-based privately-owned company is headquartered in Newtown, Pennsylvania, with an engineering research and development center in Maryland and a global network of dedicated, best-in-class distribution and manufacturing partners.
Contact
Morningstar Corporation
Mark McHenry
215-321-4457
www.morningstarcorp.com

Contact