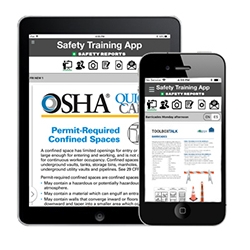 Omaha, NE, September 19, 2018 --(
PR.com
)-- Safety Reports, a leader in the development of mobile safety solutions, has released a new app that allows users to conduct essential safety talks and track employee attendance from a smartphone or tablet.
Available for Apple® and Android™ operating systems, the Safety Training App is preloaded with dozens of Toolbox Talks from the Occupational Safety and Health Administration (OSHA) and the Center for Construction Research and Training (CPWR). Users also have the ability to import additional training documents into the platform.
"This new app significantly simplifies the safety training and tracking process by eliminating the hassle of completing, scanning, emailing and filing of paper reports," said Steve Polich, president and co-founder of Safety-Reports. "It also gives business owners peace of mind knowing that important training records are stored digitally and can easily retrieved with the touch of a button. It's never been more easy to prove that you've done your due diligence."
Through the app, users can schedule trainings and track/confirm employee attendance. Optional, built-in signature-capture and training session photos can be included in the training reports for enhanced proof of attendance.
"The ability to quickly and easily access an employee's training history can be very important – especially if there's a jobsite accident," Polich said. "The app improves efficiency and provides users with the information they need to know that their employees are properly trained."
Polich added that future plans include expanding the app's current capabilities to include video Safety Talks.
For more information about the Safety Training App and Safety-Reports, visit www.safety-reports.com.
Apple is a trademark of Apple, Inc., registered in the U.S. and other countries. Android is a trademark of Google, LLC.