Smoke-Free Alternatives Trade Association Goes International
Smoke-Free Alternatives Trade Association Joins North American Alliance.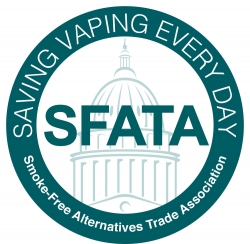 Washington, DC, September 24, 2018 --(
PR.com
)-- The Smoke-Free Alternatives Trade Association (SFATA) announced today that it is joining the North American Vapor Alliance (NAVA), an alliance of associations dedicated to developing a North American-focused, comprehensive framework to appropriately regulate the vapor industry. Other members of the North American Vapor Alliance include the American E-Liquid Manufacturing Standards Association (AEMSA) and the Canadian Vaping Association (CVA).
SFATA's Executive Director, Mark Anton, announced that the organization will join forces with AEMSA and CVA in NAVA, unified through shared principles to promote a professional standards-based regulatory system for vapor products and retailers, based on key industry input for presentation to the e-vapor regulatory agencies on both sides of the US-Canadian border.
"SFATA has always supported the need for sensible regulation of the vapor industry," said Mark Anton. "During a meeting in April 2018 between SFATA leadership and FDA Commissioner Scott Gottlieb and Center for Tobacco Products Director Mitch Zeller, our discussions were focused on the need for industry-specific standards."
Anton went on to state, "SFATA is committed to the growth of our small, American businesses, and we want to encourage effective global regulation to ensure the industry thrives and expands as more people quit smoking deadly cigarettes for a less harmful alternative. Because we are so immersed in the industry, we understand better than most the need for representation in the creation of good regulation, standards, and protocols. We believe this can best be accomplished by a united industry – including outside of the USA. Working together, we can develop achievable consensus benchmarks that will codify our commitment to consumer safety – everywhere."
April Meyers, SFATA Board President, agreed with Anton's sentiments about joining the Alliance and said, "It was clear in our meeting with Commissioner Gottlieb that the Agency is looking to us (the vapor industry) for leadership and solutions. The FDA is, in effect, the global gold-standard regulatory body. Since our meeting, it's become our goal to develop global professional-level manufacturing standards for e-liquids, hardware, and retail accreditation and certification. In achieving this goal, we will bring clarity and certainty to the industry and create a more solid foundation on which it can flourish and grow - globally. NAVA is another step in the process of accomplishing that goal."
In the coming months, the FDA will be proposing an Advance Notice of Proposed Rule Making (ANPRM) for electronic vapor product standards. SFATA believes it imperative that the industry be united and involved in developing the rules that will govern the industry.
To this end, SFATA will partner with NAVA to update a second generation of e-liquid manufacturing standards and develop new standards that will be state of the art for e-liquid components and hardware, as well as develop accreditation standards for retailers – and that has global implications.
Based on its discussions with FDA, SFATA knows the FDA views standards as a critical part of successful regulatory framework, and that it is looking for leadership from the industry. SFATA plans to provide input to FDA from the work accomplished with AEMSA and CVA in this new alliance of which it will now be a part. In the view of SFATA, the key is to get the regulation piece correct, allowing electronic vapor products to meet mandatory professional manufacturing and retail standards, so that innovation for new products is incentivized, and ultimately, regulated to promote public harm reduction. SFATA strongly believes that this collective work can and will have a positive global impact for those looking for an alternative to smoking combustible cigarettes.
For more information or to request an interview, contact:
Mark Anton: mark@sfata.org
SFATA
Larry Flick (AEMSA):
lflick@thefgagroup.com
NAVA
Contact
SFATA
Mark Anton
202-251-1661
sfata.org

Contact