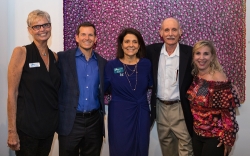 Dallas, TX, September 25, 2018 --(
PR.com
)-- Be The Difference Foundation is proud to announce its first endowment fund. The fund was made possible through the generosity of Judy Rome and the Jay Horowitz Family. The fund was announced at the Honoring and Remembering Event presented by Be the Difference Foundation on Thursday, September 20, 2018.
Judy Rome, who lost her personal battle to ovarian cancer on December 14, 2017, chose to continue the fight against the deadly disease through a financial gift which enabled the Be The Difference Foundation to create the endowment fund. According to Judy's husband, Dr. Richard Rome, "Judy discovered that there were few patient-centered and lobbying organizations, like Be The Difference Foundation, to bring ovarian cancer out of the darkness and into the public spotlight so that more research could be undertaken, and more patients be given a better chance at life. Judy perceived the challenges to include education, motivation and financial resource."
Upon Jay Horowitz's passing on April 7, 2018, his family requested that donations be made to Be The Difference Foundation in his memory. The Horowitz family has supported Be The Difference Foundation from the beginning when Jay's beloved niece, Helen Horowitz Gardner, co-founded the organization with Jill Bach, Lynn Lentscher and Julie Shrell. Helen battled ovarian cancer for over five years but ultimately lost her personal battle on August 20, 2014. Mike Horowitz said, "It is important to our family to continue to support Be The Difference Foundation and the work they do to ensure that women in the fight against ovarian cancer have better treatment options and hope for remission."
One woman is diagnosed with ovarian cancer every 24 minutes. One woman dies from ovarian cancer every 37 minutes. 70% of women diagnosed will die from the disease. Sadly, there is no routine, reliable early detection test available for ovarian cancer today.
Funds raised through Be The Difference Foundation benefit organizations working to end ovarian cancer and support women currently battling the disease. Beneficiary organizations include: The Clearity Foundation, Mary Crowley Cancer Research, MD Anderson Cancer Center, UT Southwestern Medical Center, NYU Langone Medical Center-Perlmutter Cancer Center and The Lazarex Cancer Foundation.
To find more information on Be The Difference Foundation or to donate to the endowment fund, please visit:
http://www.bethedifferencefoundation.org/
Be the Difference Foundation was formed in 2012 by four ovarian cancer survivors who wanted to "be the difference" in the fight against ovarian cancer by helping women increase their chances of survival. To achieve this goal, Be the Difference Foundation focuses on raising awareness and money to fund programs for women fighting ovarian cancer today and to provide research dollars for a cure. www.bethedifferencefoundation.org