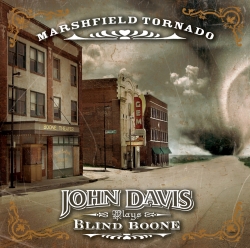 Newport, RI, March 15, 2008 --(
PR.com
)-- With "Marshfield Tornado," pianist John Davis once again mines our country's buried African-American musical past in order to bring previously unappreciated roots music to light. Davis devotes this new CD to John William "Blind" Boone (1864-1927), a sightless black musician from Missouri who modeled his career after Blind Tom's, and who was the last of a trio of overlapping nineteenth-century pianist/composers (before Blind Boone and Blind Tom came Louis Moreau Gottschalk of New Orleans) who were crucial links between rural African-American culture of the Deep South and the more urban rhythm and blues, jazz, and pop styles to emerge in the twentieth century. Today, owing mostly to the importance of his "Southern Rag Medley No. 2," Boone is rightly regarded as one of the pioneering figures in the ragtime movement. However, the majority of his compositional output is not ragtime at all, but virtuoso salon pieces that continue a trend initiated by Gottschalk and Blind Tom--fusing the stylistic elements of music by Franz Liszt (Boone's favorite composer), Chopin, Mendelssohn, Dvorak and Schubert, with African American folk traditions.
Fourteen of Boone's exciting and evocative works, rendered by Davis in the same commanding style he brought to Blind Tom's music, are included on "Marshfield Tornado." This enhanced CD, its title a reference to Boone's now-lost piece modeled on Blind Tom's popular "Battle of Manassas," also features "Music Miner," a film by Joan Grossman about Davis's ongoing "archeological" adventures reclaiming pivotal American musical works lost to history. "Marshfield Tornado" does for Blind Boone what "John Davis Plays Blind Tom" did for Thomas Wiggins—draw attention to a seminal figure in the development of 20th-century popular music in the United States.
About John Davis:
Through his ongoing efforts to excavate and disseminate neglected American roots music, pianist John Davis has emerged as one of the most unique and cutting-edge musicians of his generation. Widely praised for his instrumental mastery, cultivated at The Juilliard School and Brown University, and for his grassroots pursuit of forgotten black culture that has led him to remote corners of the United States and to amass an extensive archive of rare 19th- and early 20th-century printed African Americana, Davis has been profiled in "The New York Times," "The New Yorker," "The Independent" in London, "American Legacy Magazine," "Time Out New York," and "The Oxford American." He has also appeared on the legendary blues program "King Biscuit Time," NPR's "Performance Today," CNN, the "BBC World News," ABC's "Good Morning America," PBS' "Life 360," NBC's "The Today Show" and in a program-long interview on ABC's "Nightline Up-Close."
###