Make Halloween History as Rosie the Riveter: Let RosiesLegacyGear on Etsy Turn You Into an American Icon
Want a Halloween costume that makes a statement about you? That tells everyone you are a strong, empowered, accomplished woman. Want a costume that is comfortable? All you need is jeans, shirt, bandana and a few authentic accessories. Want a costume that is affordable? Visit RosiesLegacyGear on Etsy. Designed for women by women.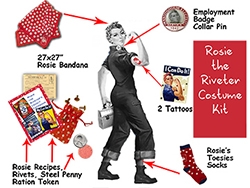 Bangor, ME, October 02, 2018 --(
PR.com
)-- Halloween's coming, and whether you want to dress as an authentic Rosie the Riveter or a stylized, sexy Rosie, there's an Etsy store with everything you need. The 5-Star
RosiesLegacyGear Etsy store
is your resource for authentic essentials, unique accessories and even fanciful extensions to the Rosie product line.
From red-and-white polka dot bandanas to rivets and ration books to perfect reproductions of Rosie's employment badge collar pin, Etsy's "RosiesLegacyGear" has it all. "We've recreated the essentials like bandanas, pins and posters," says co-founder Matilda Butler. "Plus we've added the ephemeral such as reproduction ration books and authentic ration tokens and 1943 steel pennies. Think of these as the things real Rosies would have carried in their pockets and purses."
Working from Oregon and Maine, two friends have been outfitting a new generation of Rosie the Riveters for the last 10 years. And it all started with a book.
Matilda Butler and Kendra Bonnett are the authors of the collective memoir Rosie's Daughters: The "First Woman To" Generation Tells Its Story. To help promote the experiences of a generation of women born during World War II, the authors decided to wear Rosie's iconic polka dot bandana. "We couldn't find bandanas anywhere," recalls Butler. "So we made our own. The book sold well, but the bandana was an overnight bestseller, and that was the beginning of our business."
It's All About the Accessories
Rosie the Riveter is a popular Halloween personality. "Rosie is loved for any number of reasons," explains Bonnett. "She's iconic Americana. The costume is comfortable to wear, and Rosie stands for the best in feminism: Strength. Empowerment. And a We Can Do It! spirit."
Also important, a Rosie the Riveter costume is inexpensive. All you need is a blue shirt, blue denim jeans or overalls, boots...and the right accessories. "That's where we come in," says Butler. Recently, "RosiesLegacyGear" created a
Rosie the Riveter Costume Kit
that combines every add-on an aspiring Rosie needs: bandana, collar pin, temporary tattoos, ration book, rivets, authentic ration token and steel penny, even red-and-white polka dot socks.
Bringing Authenticity to the Rosie Look
"When it comes to authenticity, our customers encourage us to dig for the historical details," says Butler. Here's a sampling:
- The bandana is a regulation 27x27 inches to cover the head and keep hair out of fast-moving machinery.
- The employment badge collar pin is a careful reproduction of what Rosie wore at the Westinghouse plant (includes a sepia photo of Rosie and a 1942 employee number).
- The We Can Do It! poster offers a special twist: The iconic illustration with Rosie on one side and background without Rosie on the other so aspiring Rosies can create their own iconic pictures.
"It takes longer to get everything right," admits Bonnett, "but it's important. While Rosie is an iconic, larger-than-life figure, we can never forget that she was real." Rosie the Riveter represents the millions of women who served on the home front during World War II. They ended up showing the world what women can achieve.
Empowerment is Fun
During the last 10 years, Butler and Bonnett have outfitted thousands of aspiring Rosies - young and old. In addition to Halloween, their costume accessories are seen at Rosie Rallies, museum gift shops, school and sporting events and Guinness record events to gather the most Rosies in one location. "Our Original Rosie Legacy Gear has been on the covers of magazines, on television shows and even requested by women serving in the military," says Butler.
In addition to outfitting costumes, the women are expanding their product line to include Rosie-inspired tote bags, called Rosie TotablesTMand colorful polka dot socks, called Rosie's ToesiesTM. "You can identify many of our products by our distinctive Rosie cartouche trademark, which is Rosie the Riveter's iconic silhouette," says Bonnett.
The Etsy store "RosiesLegacyGear" is the official outlet for Original Rosie Legacy GearTM.
Contact
Original Rosie Legacy Gear
Kendra Bonnett
203-535-9030
https://www.etsy.com/shop/RosiesLegacyGear

Contact