Skin Actives Scientific Announces Brand Refresh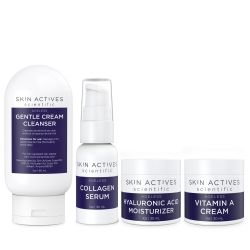 Gilbert, AZ, October 06, 2018 --(
PR.com
)-- Skin Actives Scientific is excited to announce a major brand refresh that reflects the company's evolution. The company's new identity includes a redesign of their logo, packaging, labeling, as well as a new website, store and skin care quiz. It's now easier for customers to become their own skin health expert.
Skin Actives' new brand still holds true to their focus on science, but wanted to give the brand a sophisticated makeover. Customers can still be confident in Skin Actives' products knowing that they make honest products that protect your skin's health. Their unique formulas don't promise miracles or gimmicks, just effective solutions based on science.
"We have always had an amazing product line that focuses on effective products at an affordable cost. We are confident that with our rebrand we will help our customers become skin experts with our simplified online experience," says Amanda Wolfe-Elampooranar, CCO of Skin Actives Scientific.
Skin Actives Scientific now has their products categorized by skin type and concern, each with a unique category color to help customers easily determine their skin care routine. They have also developed an online skin care quiz that will give you a personalized regimen after answering just a few questions. These are simple ways for customers to find the recommended solutions for their concerns will make anyone feel confident and beautiful in their own skin.
Dr. Hannah Sivak, co-founder, has been a long-time health advocate. She created this skin care line to empower customers to take control of their skin health. "To take care of our skin, we need to understand how it works and how we can protect it from the environment. This is not just because we want to be beautiful for those who love us, but because we love ourselves and we want it to be healthy for life," Dr. Sivak said.
"Our objective from day one has been to create the best products in the world, available at prices achievable by every consumer. We remain as dedicated as ever to pursuing the science of skin care and delivering world-class products to our customers. With our rebrand, these top quality products will look even better sitting on your shelf," says Jonatan Funtowicz, CEO of Skin Actives Scientific.
About Skin Actives Scientific
Skin Actives Scientific is a family owned and operated skin care company based in Gilbert, Arizona. Dr. Hannah Sivak and her son Jonatan Funtowicz founded the company in 2005 with the aim of providing the best skin care products and ingredients in the world at affordable prices.
Contacts
Skin Actives Scientific
Amanda Wolfe Elampooranar
CCO
amanda@skinactives.com
480-813-5633
Contact
Skin Actives
Amanda Wolfe Elampooranar
480-813-5633
www.skinactives.com

Contact