"Where Magic Happens" TV Show Filming in Virginia
Upcoming TV Show "Where Magic Happens" features magician and illusionist, Ashton Blackwell, utilizing his talents to engage communities throughout the country to rally around their neighbors in need. Red Sky Studios will be filming the pilot episode of "Where Magic Happens" in the greater Lynchburg, VA area.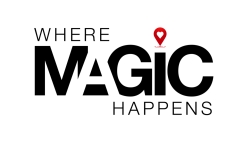 Lynchburg, VA, October 08, 2018 --(
PR.com
)-- Compelled by the desire to encourage communities of true compassion, Blackwell makes use of his vast experience in the art of illusion to reveal the magic that happens, and the hope that ignites, when neighbors come together to help one another.
"Where Magic Happens" is a unique reality television series that accepts video submissions from community members around the country, secretly nominating a neighbor who has been influential in the lives of those around them, with acts of selflessness, kindness and generosity of time or talents, and are in the midst of difficult life circumstances themselves.
Throughout the series, Blackwell expertly manages a covert operation with community members, embarking on a journey where he places himself, first-hand, into the chosen participant's difficult life experiences, whether of poverty, homelessness, incarceration, physical disability or other challenges to give the viewer a clear picture of what they are facing. Family and neighbors join Blackwell on this journey, working together to unlock a series of clues revealed through custom-designed, innovative magic and illusion, leading everyone to the grand finale where the participant is finally let in on the secret, discovering through the love and generosity of their neighbors, their own community is "where magic happens."
The show will be filming November 4-10, 2018 in the greater Lynchburg area and invites the community to join us to witness Blackwell's biggest, and best illusion yet, during the "Hope Tour" concert at 6PM (doors at 5PM) Friday, November 9, at Tree of Life Ministries, 2812 Greenview Dr, Lynchburg, VA 24502. The guest(s) of honor, unaware they are the main focus, will be in attendance at the finale event. Come join Ashton Blackwell, the television show team, community and special friends on November 9 to celebrate and witness the magic of their community's love and generosity! Learn more at WhereMagicHappensTheShow.com or email info@WhereMagicHappensTheShow.com.
Contact
Where Magic Happens
Stephen Preston
205.378.9371
wheremagichappenstheshow.com

Contact
Multimedia
Press release for television show filming in Lynchburg, VA November 5-10, 2018.