Patagonia Camp Recognized as One of the Top Resorts in Chile by Condé Nast Travelers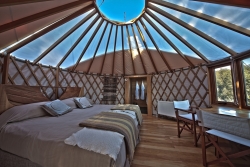 Manhattan, NY, October 31, 2018 --(
PR.com
)-- Patagonia Camp, Chile's "glamping" destination, has been included in this year's Condé Nast Traveler's 31st annual Readers' Choice Awards. Located in the bucket-list destination of Torres del Paine National Park, Patagonia Camp came in at number 13 in the best resorts in South America.
The Condé Nast Traveler Readers' Choice Awards are the longest-running and most prestigious recognition of excellence in the travel industry and are commonly known as "the best of the best of travel."
Patagonia Camp is an "eco-first" destination in a private reserve. Guests stay in one of it 20 luxury yurts, each decorated in regional style and offering an extremely detailed-oriented glamping experience unique in the area, including a spa-like decorated en-suite and a private balcony overlooking the horns of the Torres del Paine massif and Toro Lake.
Guests of Patagonia Camp are encouraged to take advantage of the destination's hours of daylight to embark on one of the many excursions, both general and private, offered by the property in the UNESCO World Biosphere Reserve of Torres del Paine National Park, including the famed "W" trail.
Tours vary in difficulty, and guides always accompany visitors. Guests can hike to the base of the Tower, visit the Salto Grande, walk along the beach in front of Grey Glacier or paddle a kayak through its colossal blue and white icebergs.
One of the most popular activities is the wildlife-watching in Torres del Paine National Park. During this hike, visitors will see majestic condors wheeling in the pristine skies overhead as foxes, huemul (Andean deer) and llama-like guanacos make their way across the landscape. Eagle-eyed hikers may even spot the reclusive puma.
This is the first time that Patagonia Camp has been included in the list.
The 2018 Readers' Choice Awards are published exclusively on Condé Nast Traveler's website at https://www.cntraveler.com/the-bests/readers-choice-awards and celebrated in the November issue on newsstands nationwide on October 16.
HD Photos:
click here
For more information, visit: www.patagoniacamp.com
About Patagonia Camp
Patagonia Camp is situated in a private, 84,000-acre reserve. It is an innovative and original project designed and built to offer a unique and intimate nature experience under the "glamping" concept in one of the world most remote destinations: Chile's famed Torres del Paine. Now celebrating its 10th anniversary, Patagonia Camp comprises 20 fully equipped Mongolian style tents, or yurts, located on the shore of Toro Lake. The hotel is surrounded by local native "coihue" forest, transparent water lakes and lagoons. Local fauna such as condor and foxes can be found near the hotel, as well. Visit www.patagoniacamp.com
Contact
Patagonia Camp
Gustavo Rivas-Solis
917-438-7096
http://www.patagoniacamp.com/

Contact