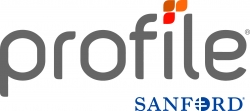 Louisville, KY, October 16, 2018 --(
PR.com
)-- Profile by Sanford, the personal health coaching and weight loss service developed by Sanford Health, is expanding to Louisville this October with a franchise location. The first of four stores to be opened in the Louisville market will be located at 982 Breckenridge Lane, Louisville. The store will open for business on October 30, 2018.
A Grand Opening community event will be held at the Profile Store on November 1, 2018 from 4:00 to 7:00 p.m. The community is invited to stop by the Profile store to meet the Coaching Staff, enjoy Profile's delicious foods, learn about the Profile Plan program and enter drawings for free memberships.
Over 100 Louisville residents are already benefiting from the Profile Plan using Profile's virtual and phone-based coaching model. "Louisville sets the standard for championship level brands," said Jamal Thruston, Profile - Louisville's Franchise Manager. "We know there will be support for Profile's scientifically based program that helps people achieve better living through healthier food, activity and lifestyle coaching."
Profile was designed using a body of clinical research to provide individuals with a simple, effective and sustainable approach to healthy lifestyle change. An advisory board comprised of Sanford Health physicians and researchers oversee the continued development of Profile. Sanford Health, located in Sioux Falls, SD, is one of the largest integrated health systems in the country.
Profile combines nutrition, activity and lifestyle coaching to encourage healthy weight loss and lasting behavior change. Certified Profile coaches help members create a personalized nutrition plan that includes a combination of Profile foods and healthy grocery options. Profile offers more than 80 food options, including pastas, soups, salad dressings and entrees. Each Profile member receives a Profile Smart Body Scale that provides wireless, real-time progress monitoring through web and mobile applications.
About Profile by Sanford
Profile by Sanford combines nutrition, activity and lifestyle coaching to help members lose weight and keep it off. Physicians and researchers at Sanford Health, one of the largest integrated health systems in the nation, designed Profile by Sanford to take the guesswork out of healthy lifestyle change. The program's results-oriented approach has driven the company's growth. For more information, visit
profileplan.com/Louisville/
.
About Sanford Health
Sanford Health is an integrated health system headquartered in the Dakotas. It is one of the largest health systems in the nation with 45 hospitals and nearly 300 clinics in nine states and four countries. Sanford Health's 28,000 employees, including more than 1,300 physicians, make it the largest employer in the Dakotas. Nearly $1 billion in gifts from philanthropist Denny Sanford have allowed for several initiatives, including global children's clinics, genomic medicine and specialized centers researching cures for type 1 diabetes, breast cancer and other diseases. For more information, visit sanfordhealth.org.