ERPSolutions.biz Introduces New Software Release of Total Quality Control Management (TQCM) for Microsoft Dynamics 365 Finance and Operations Version 8 and 8.1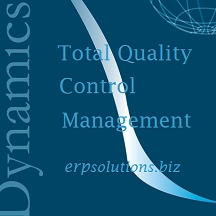 Chanhassen, MN, October 15, 2018 --(
PR.com
)-- ERPSolutions.biz, the world leader in advanced quality management solutions for Dynamics 365, announced today a new version of Total Quality Control Management. This release incorporates new functionality and continuing improvements to the products existing rich features. Auditing now includes vendor audits with e-signature approvals, power applications for remote auditing, and uploading Audit results directly into Dynamics 365. Audits also support external regulatory and customer audits and all Audit types directly communicate to nonconformance and corrective actions.
Total Quality Control Management for Dynamics 365 Finance and Operations is certified by Microsoft and is a suite of solutions to control the quality of products, processes, customers, and vendors. Featured on Microsoft AppSource, TQCM continues a long tradition delivering solutions on Microsoft Platforms since 2004 with customers worldwide. "Localization is key for our global customers and today we support multiple languages with global tables and intercompany processes," states Tim Holmquist, the company's president. "Regulatory considerations are also key to our global customers and our processes support TITLE 21 CFR Part 11."
The TQCM suite of modules includes Customer Complaints, Nonconformance Reporting, Corrective and Preventative Actions, Instrument Calibration, Auditing, Inspections and Lot Sampling supporting worldwide standards including ISO, ANSI, and NIST.
ERPSolutions.biz is a software publisher producing solutions for Microsoft Dynamics 365 Finance and Operations. The company's suite of solutions is available on previous Microsoft Platforms including Dynamics AX2012, AX2009, and AX4.0. The company was founded in 2004 and today supports customers worldwide in High-Tec, Automotive, Aerospace, Pharmaceutical, Medical Device and other industries. Their suite of products is available through Microsoft's Worldwide Partner Network. Visit us at
www.erpsolutions.biz
or on
Microsoft AppSource
.
All products mentioned in this release are trademarks or registered trademarks of their respective holders.
Contact
ERP Solutions
Tim Holmquist
612-284-3443
www.erpsolutions.biz

Contact