Louisville Ladder Focuses on Users with New LeanGreen Technology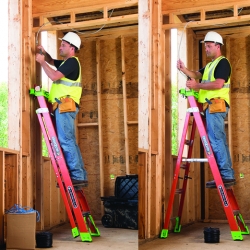 Louisville, KY, October 22, 2018 --(
PR.com
)-- Customers asked, and Louisville Ladder is delivering. In 2016, Louisville Ladder set a new industry standard when they designed the 2 in 1 Step and Leaning Cross Step Ladder. The Cross Step's innovative design solved one of the biggest issues in the industry, leaning a step ladder. Before the Cross Step, this was an OHSA violation and was followed by expensive fines. Louisville is taking it one step further with a major update that is sure to benefit its users. They are introducing their LeanGreen Technology.
"By listening to our customers, we can find what is really important to them while working in the field," Marketing Manager Alvaro DeLeon said. "After the success we had with the Cross Step, we started hearing ways that could make it better, including making it easier to identify. Again, we chose to listen, and now we have added our new LeanGreen Technology to the Cross Step."
The LeanGreen technology sets the Cross Step apart from a regular stepladder. It's Hivis green color is meant to easily be identified from far away. Users on site and OSHA can easily recognize this as the ladder that can be leaned.
The Hivis green makes it easy to find, but the benefits are what make it memorable. The advanced shape of the step ladder allows the user to get 6" closer to their working space, reducing overreaching and injury. The V-shaped ProTop allow the ladder in leaning position to be leaned against walls, on poles, on and into corners. The ProTop also comes with multiple tool slots and magnet to keep your tools within reach while working. The 2 locking latches securely attach the rear section of the ladder, allowing it to lean. The Raptor Boot and Shox, also with LeanGreen technology, are slip-resistant and provide superior impact absorption to protect the fiberglass railing from drops and bumps.
Louisville Ladder's reliable reputation, customer driven focus, strong moral ethics, and desire to push innovation make them stand out as the ladder company that is Built To Be Above.
About Louisville Ladder®:
Louisville Ladder, headquartered in Louisville, KY, is one of the largest manufacturers and distributors of climbing equipment in the world for residential and professional applications. For more than 70 years, Louisville Ladder has pioneered industry shaping innovations including the industry changing Cross Step™ 2 into 1 ladder series, its patent pending Maxlock™ Rung Lock, patented QuickLatch® rung-lock system, Raptor Top™ work tray, Raptor Boot™, and SHOX™ impact absorption system. With forward-thinking design and state-of-the-art manufacturing processes, Louisville Ladder is committed to delivering innovative, professional grade climbing products that meet and exceed the demands of modern-day jobsites. Learn more at louisvilleladder.com.
For more information about the Cross Step Ladder visit Louisvilleladder.com.
Contact: Alexandra Griffin, Marketing Coordinator, alex.griffin@louisvillelader.com, 502-635-9335
Contact
Louisville Ladder, Inc.
Alexandra Griffin
502-635-9335
www.crossxstep.com

Contact