Steve Ihm, Allstate VP Assistant General Counsel Featured on The Law Department as a Business Enabler by Chuki Obiyo of Morae Global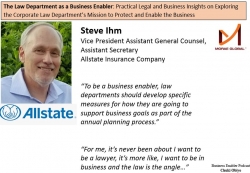 Chicago, IL, October 30, 2018 --(
PR.com
)-- Steve Ihm, Vice President Assistant General Counsel and Assistant Secretary at Allstate Insurance Company joins Chuki Obiyo of Morae Global to discuss practical legal and business insights on the law department's mission to protect and enable the business.
"To be a business enabler, law departments should develop specific measures for how they are going to support business goals as part of the annual planning process," says Ihm. The role of in-house lawyers can evolve with the needs of their business partners, and high-performing law departments do a good job of embracing a culture of continuous improvement to meet these needs.
In the spirit of continuous improvement, Ihm shared insights on how law departments can take advantage of the following innovation opportunities in engaging with business partners: Simplification, Self-Service, and Data.
Listen to Steve and Chuki discuss these innovations and explore practical insights on what law departments need to get right - the right people, process, systems, and scorecard... for free access to the full podcast, please contact Chuki Obiyo on Morae Global's LinkedIn page or just listen here: https://soundcloud.com/user-9944886-252248365/steve-ihm-business-enabler
Contact
Chuki Obiyo
312-767-9516

Contact