East Rogers Park, Chicago, Local Author Shares Mystical Insights Into the Nature of Consciousness and Physical Life at Upcoming Book Release Event
This is a timely book release announcement as a neighborhood is dealing with the terrible tragedy of two consecutive murders. Local author shares inspiration and a meditative reflection on what it means to be alive. Jarvis Square Pottery will be hosting this intimate event. Author Clayton Jarvinen shares wisdom and inspiration from what he calls "the great mind of consciousness." Thoughts From Sunrise™ is a series of books designed to work with the subconscious mind.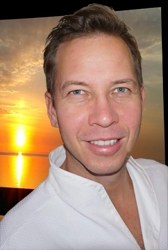 Chicago, IL, October 30, 2018 --(
PR.com
)-- East Rogers Park, Chicago: Long time resident releases his first series of books to work with the subconscious mind. After a spiritual awakening the new author captures thoughts from "the great mind of consciousness," as he puts it, in a series of contemplative picture books. The book launch party will be hosted by Jarvis Square Pottery on Monday, November 12 at 6:30 pm..
After a life altering ski accident, Clayton Jarvinen spent years suffering inner turmoil trying to cope with his new life conditions. Losing nearly every possession while unable to walk, work or do anything he had done effortlessly a short while before he was forced to take a deep look inside.
While fighting suicidal depression he happened across a local meditation facility. With little practice Clayton delved into a months long meditation practice with astounding results. Two and a half months of silent meditation revealed to him, the nature of consciousness.
Mr. Jarvinen has taken this inspiration and "spiritual awakening" into his daily life. While writing his memoir, "Mirror Mirror," he has compiled this series of picture books as a fun and accessible way for others to connect to a deeper sense of themselves; to "uncondition the mind from habitual thinking." His unconventional approach to spirituality makes often difficult esoteric concepts easier to understand.
Thoughts From Sunrise™ captures the morning sun outside his home at the lakefront of the northern Chicago neighborhood of East Rogers Park. Each photo is accompanied by an inspired daily thought.
This event is timely as the neighborhood has recently been shaken by two tragic murders leaving many looking for ways to cope with the fear, grief and insecurity. Mr. Jarvinen says the books were designed as "a way to work with all of life's conditions with an open heart and open mind. That is where true freedom comes from."
Book launch event details as follows:
Jarvis Square Pottery
1443 W Jarvis Ave.
Chicago, IL 60626
docs.google.com/document/d/13pHEiAFYqsmkJ53xsLvqd8vc40yajJF063_ubQVzMbQ/edit
Contact
Thoughts From Sunrise, LLC
Clayton Jarvinen
773-406-5282
www.thoughtsfromsunrise.com
Facebook and Instagram search: awake38

Contact
Multimedia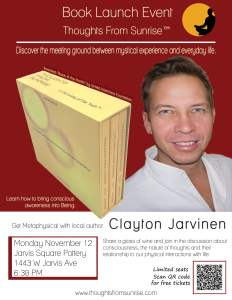 Book release event invitation: Monday November 12 6:30PM Jarvis Square Pottery 1443 W Jarvis Ave Chicago, IL