Novia Plans to Revolutionize Shaving in the USA -- With an Old-School Razor
Novia launches the latest, most stylish and innovative iteration yet of the classic safety razor. The patented, gunmetal design of the Novia Black Sable Razor gives its customers a modern, effective shaving option that produces smooth, comfortable shaves with no skin irritation -- the type of shave that disposable cartridge razors just can't give.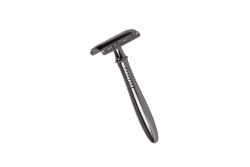 Boca Raton, FL, November 05, 2018 --(
PR.com
)-- Novia International, a Boca Raton, Florida-based manufacturer and online merchant, is bringing back old-school shaving -- but in a thoroughly revolutionary way.
Today, the company is launching the latest and most stylish iteration yet of the classic safety razor--the type of razor your father or grandfather used. "Not only is Novia's new Black Sable the coolest razor you've ever seen, but its patented gunmetal design makes shaving way more satisfying, less painful and more economical than what the best disposable-cartridge razors on the market can offer," proclaims its website, NoviaUSA.com.
The Black Sable Razor Kit, which includes the gunmetal razor and matching stand, plus five platinum stainless steel razor blades, goes on sale today on
Amazon
. It will be offered at a substantial, 20%+ discount for a limited time during its launch. (Prospective buyers should make sure to look for the discount code under "special offers.")
Safety razors were used widely in the 50s and 60s, before the more-expensive, but usually inferior, cartridge razors came about. "The big companies abandoned the better way to shave because they loved selling Americans expensive cartridges," says Amanda Reagan, the company's marketing manager. "But there still IS a better way, and we've made it even better."
Reagan says the patented design and dark good looks of the Novia Black Sable Razor will give its customers the best shave of their life -- the type of shave that disposable cartridge razors just can't give.
She stresses that Novia doesn't use plastic parts, either -- a big plus in the battle to save our planet from waste. "But maybe best of all, it'll save our customers tons of money," she adds, explaining that the traditional double-edged razor blades it uses cost a small fraction of what most cartridges cost.
"Welcome to the future of shaving," the company predicts, ironically, in its marketing materials. But its tagline emphasizes the main point: "Novia: A Better Way to Shave."
The Amazon sale comes in plenty of time for the upcoming Christmas and Holiday season; a secondary launch -- to brick-and-mortar stores -- is planned for early next year.
You can follow the company and learn about its future products and special offers by visiting its website, NoviaUSA.com, as well as Facebook and Twitter (look for @NoviaLifestyle).
About Novia: Novia International (including its Novia USA division) is a Boca Raton, Florida manufacturer and online retailer specializing in elegant, innovative and eco-friendly products in the health and personal care fields. The Black Sable Razor, its first shaving product, represents an innovative and stylish redesign of the classic safety razor.
Visit NoviaUSA.com for more information.
Contact
NoviaUSA
Amanda Reagan
561-239-6858
NoviaUSA.com

Contact