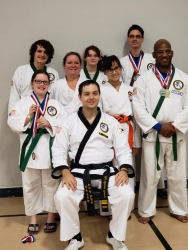 Arlington, TX, November 06, 2018 --(
PR.com
)-- A local Martial Arts school,
Cornerstone Martial Arts & Leadership Academy
, has returned triumphant from a multi-state regional Martial Arts Championship. Students from the prestigious Cornerstone Martial Arts & Leadership Academy traveled to Albuquerque, New Mexico to compete in the multi-state Southwest Regional Championships of the Atlantic-Pacific Tang Soo Do Federation, where they secured an uncontested position as the Region's premier Martial Arts school by bringing home multiple gold, silver, and bronze medals in a variety of competition categories, including sparring and board-breaking.
Each of the seven, elite students from the school earned multiple medals at the large-scale event, highlighting their skill and ability. When asked the secret to the students' success, the students' instructor, Paul R. Dulaney, had this to say: "I'm very humbled by their achievements. We put a lot of work and time into preparing our students for success, and I'm so excited for them. There were a lot of schools at this event...lots of students from all over the Southwest Region, and our students stood out. I think preparation is key, and we really work hard to make sure our students are prepared, but this victory belongs to them. Their hard work paid off, and I'm very proud of their accomplishments. I can't wait to see what the future holds for the students of Cornerstone."
Cornerstone Martial Arts & Leadership Academy is a private Martial Arts school located in Arlington, Texas, where students are mentored and taught the physical, mental, and emotional aspects of the Martial Arts. "Competition is actually a relatively small part of what we do at Cornerstone..." says Mr. Dulaney. "...We go to competitions maybe a few times a year. Our focus is on self-improvement and developing quality Martial Artists. Our students do well in competition, and I think that's a proof of the value of our school's focus."