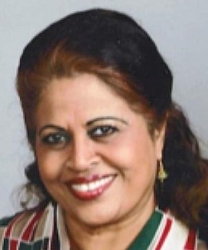 Buena Park, CA, December 06, 2018 --(
PR.com
)-- Soruba "Rani" Kuusto of Buena Park, California has been recognized as a Woman of the Month for November 2018 by P.O.W.E.R. (Professional Organization of Women of Excellence Recognized) for her outstanding contributions and achievements in the field of healthcare. Each month they feature women to represent their professions and industries due to their expertise and success in their chosen specialty.
About Soruba "Rani" Kuusto
Soruba "Rani" Kuusto is a recently retired nurse consultant from the State of California, Department of Corrections. She is a skilled negotiator with over 35 years experience who handled complex issues from the California Governor's office as a Chief Nurse Executive.
When not working, Soruba is a passionate volunteer. She is a member of many organizations and holds the following positions: a life member and co-chair of the Health and Wellness Council of Global Organization of People of Indian Origin (G.O.P.I.O., International) and a member of the Los Angeles Chapter of G.O.P.I.O. She is affiliated with the South Asian Helpline and Referral Agency (SAHARA) in Los Angeles and is Vice President of the Fullerton Host Lion's Club in California. Previously, she volunteered for Habitat for Humanity in Mexico, volunteered in Chennai, India, helping survivors of a tsunami, and worked with Peace Corps volunteers in the Middle East and England. Soruba helps the homeless people in her local community during the weekends by cooking and serving breakfast, and distributing clothes, shoes and socks. As a nurse educator, she volunteers her time by educating the local community, schools and prisons on subjects like diabetes, heart disease, domestic violence, bullying, and other relevant issues.
Soruba earned her B.Sc. in Nursing from the S.N.D.T. College of Nursing in Mumbai, India and her M.P.H. from California State University Long Beach, USA. She also has worked as a CAL-OSHA inspector and a nursing instructor in colleges. Her future goals include establishing an association for the nurses to provide C.E.U.'s for their RN license and to bring awareness on healthy lifestyles in the communities. Soruba states, "I am a very kind-hearted, humble person and a great listener." In her spare time, she enjoys travel, art, music, theater, the stock market, ethnic cooking and photography.
About P.O.W.E.R. MAGAZINE (Professional Organization of Women of Excellence Recognized) and POWERWOE.com
P.O.W.E.R is a website as well as a digital and print magazine featuring celebrities and everyday hardworking professional women. Our mission is to provide a powerful network of empowering women who will mentor and inspire each other to be the best they can be. Through our valuable services, our members can collaborate with like-minded professionals, gain recognition and obtain knowledge from those who have already achieved success.