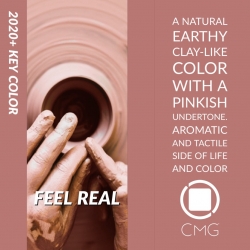 Philadelphia, PA, November 10, 2018 --(
PR.com
)-- Feel Real, the 2020+ key trend color for Europe is a color for life's journeys and experiences. Despite the augmented, virtual, sometimes disconnected world, at the end of the day, everyone needs to simply take part in life.
Feel Real offers a grounding effect to keep humanity in touch with its surroundings, and one another. It is an Earth inspired brown, with subtle pink undertones, which can seemingly engage multiple senses. You can practically touch and smell the sweetness of this clay-like color.
Engaging with the aromatic and tactile is a trend for living and design. Scent is considered the most memorable of senses and a familiar perfume, food, or even a crayon, can evoke recollections from decades past. A scent can make a memory "feel real" and stimulate a visual image of a moment in time, special event, or loved one.
The sense of touch is another key trend in design. Close your eyes and "see" how something feels. Tactile in a way that exudes sensuality, frivolity or surprise, a sense of touch adds dimension, and tells you that there is actually something there. Whether in a matte or satin finish, Feel Real offers looks to quench our desires. Tactility is often, at first, experienced with our eyes. Intrigued by the anticipation to discover how something feels, the sense of touch becomes a yearning. The possibility exists with Feel Real.
Visually engaging, Feel Real activates our senses for scent and touch. It anticipates crisp coolness, and the possibility to inhale its freshness as the craving for sensual touch is viewed through a comforting lens. It is a color that triggers the senses, imparts a sense of place and reminds us, always, to Feel Real.
About Color Marketing Group®
Color Marketing Group®, founded in 1962, is a not-for-profit international association of color design professionals who forecast color directions and is a forum for the exchange of all aspects color. Members represent a broad spectrum of designers, marketers, color scientists, consultants, educators, and artists. Color forecasting events are held throughout the world and the results from these events become part of the global World Color Forecast™ revealed at the annual International Summit.