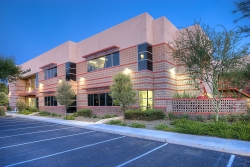 Tempe, AZ, November 13, 2018 --(
PR.com
)-- Menlo Group Commercial Real Estate has announced the 10-year lease of 25,000 square feet of the Arrowhead Professional Medical Plaza located at 16222 N. 59th Ave. in Glendale, Ariz. Both the tenant and the landlord were represented by Menlo Group advisors.
"This deal is a huge testament to the core values and teamwork within our office," said Tanner Milne, president of Menlo Group. "We were able to collaborate and achieve a mutually beneficial result for both the tenant and the landlord."
Atlantis Health System will lease the space, turning it into an ambulatory surgery center and multispecialty center of clinical excellence. Milne and Vice President Mark Haslip represented the healthcare company as it searched for a space that could accommodate its robust multispecialty, surgical and staff needs.
Cypress West Realty Management is the operator of the 40,000-square-foot medical office complex located off 59th Avenue and Paradise Lane. The company had worked with Menlo Group advisors in the past and utilized the expertise of Senior Vice Presidents Stuart Milne and Rich Andrus to market the property and negotiate the deal.
"Having a team that focused on the outcome first and then reversed into the steps necessary for each party to achieve that goal enabled a very collaborative lease process," said Bryan McKenney, director of brokerage services at Cypress West. "We are thrilled to have a group as established and respected as Atlantis Health System in the project. We appreciate everyone's work on this transaction and look forward to the next opportunity to work together."
About Menlo Group Commercial Real Estate
Menlo Group Commercial Real Estate is a full-service commercial real estate brokerage located in Tempe, Ariz. Our advisors specialize in tenant and buyer representation, landlord and seller representation, investment services and real estate consulting in the Metropolitan Phoenix area and throughout the state of Arizona. Our mission is to deliver unparalleled value to our clients through service, innovation and solutions. Learn more at www.menlocre.com.