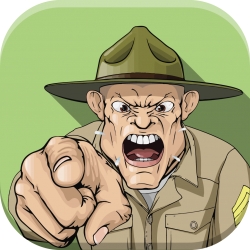 Washington, DC, November 16, 2018 --(
PR.com
)-- Having trouble getting up in the morning? Now you can get some expert help.
With Scold Alarm, you can have a U.S. Army Drill Instructor stationed right in your bedroom, ready to roust you out of the sack at your appointed time – thanks to a new free app now available on the iPhone AppStore.
Scold Alarm goes beyond traditional alarm clocks in its ability to get you up. It's perfect for those mornings when you really need to get to school, work, or an appointment on time – your career or your life or maybe your cruise ship departure depending on it. Not to worry, you can now enlist the services of a real, authentic, fire-breathing U.S. Army Drill Instructor to make sure you get up on time. But caution, this is not a guy who likes to hear, "Call me in ten minutes... You think this is some kinda resort we're running here, boy?... Well, I've got news for you."
You can hear his entire superheated harangue at http://ScoldAlarm.com; no charge. But warning again, this is not your mom gently calling you through your bedroom door.
Scold Alarm also provides other vocal impersonations to get you up and on your feet, ready to do battle with the world, including a Mafia Capo ("Don't make me mad, okay, I was in a good mood..."), Beach Cop ("Okay, Sleepin' Beauty, time to rise 'n shine..."), Caribbean Pirate ("Still sleepin', are ye? Heave to, young squire, time to look lively, I say!"), German Military Officer ("Get up now or get a bullet in the brain!"), Football Coach ("Listen up! It's time to get outta that bed – I know it's hell! You gotta Believe...").
Coming soon: Rap Singer, Rottweiler, Dracula, many more.
Setting up ScoldAlarm on your iPhone is easy. Just select a vocal impersonation from the list you downloaded, then indicate your wake-up time. At your scheduled time, a brief buzzer will sound, followed by the vocal impersonation. Every ten minutes after that a snooze alarm will go off.
You can also set Scold Alarm on "Random" so you won't know which character vocal impersonation is going to wake you up.
"Scold Alarm is something new," says developer Warren Ryan. "We're all used to dreading our alarm clocks or clock radio music going off in the morning. Scold Alarm is a lot more fun and works just as well or better. I hope to eventually have dozens of impersonations on the app. You can preview all the ones now available by going to ScoldAlarm.com, then if you wish download all or some on your iPhone."