North Star Leasing Company Selects IDScloud to Accelerate Its Equipment Finance Growth
International Decision System (IDS), a leading provider of equipment finance and origination software, announced North Star Leasing Company (NSL) has selected IDScloud to support its growing equipment leasing business.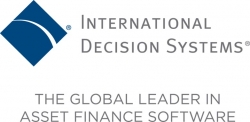 Minneapolis, MN, November 14, 2018 --(
PR.com
)-- International Decision System (IDS), a leading provider of equipment finance and origination software, announced North Star Leasing Company (NSL) has selected
IDScloud
to support its growing equipment leasing business. IDScloud provides the full capability of the company's flagship product InfoLease in an easy to consume, easy to manage software-as-a-service (SaaS) solution. This cloud-based delivery allows NSL to use the core features they need today with the ability to scale as their business continues to grow.
NSL has been serving the leasing needs of growing businesses since 1979. Located in Burlington, Vermont, NSL provides equipment financing to the micro ticket leasing industry in order for them to grow their business and has been using IDS software since inception. IDScloud was selected based upon the product's depth of functionality, consumption-based pricing, and the ability to implement the solution without the need for additional IT staff or a significant professional services engagement. The full solution is targeted to be in production within eight to ten weeks.
"We are pleased to be working with IDS and using IDScloud," said Dan Feeney, CEO of North Star Leasing Company. "As we continue to grow, it is imperative to utilize a back-office leasing management solution that addresses the needs of our daily business activities and will grow with us down the road. The IDScloud solution made it easy to integrate into our business process and ensure we are able to provide exceptional lease servicing to our customers while allowing our employees better access to our lease contracts and data."
IDScloud delivers the same powerful leasing and lending engine used by many of the world's largest financial institutions through a 100% SaaS model, making it accessible for all leasing providers. The solution is packaged to deliver a foundation of core functionality with the ability to add advanced features as the customer's business evolves. IDScloud provides the flexibility of both cost and functionality needed to deliver an end to end solution to any company in equipment finance.
"North Star Leasing Company has been a great business partner and we are excited about being able to support them with their future growth plans," said David Hamilton, CEO of International Decision Systems. "With IDScloud, we set out to deliver the full capability of our InfoLease product in a scalable, secure and highly resilient service that was easy to deploy and cost effective for our customers. As a fully managed service, which includes both infrastructure and application management, the team at NSL will be able to focus on their business while their mission-critical applications are expertly serviced by IDS."
About International Decision Systems
IDS is the leading global provider of software and solutions for the equipment and asset finance industry with a proven track record of serving hundreds of customers, from small independents to many of the world's top lessors. IDS solutions are powerful and feature rich, yet flexible to meet each organization's business needs. IDS customers benefit from the collective best practices of our large, global user community. Headquartered in Minneapolis, MN, the company also has offices in the United Kingdom, Australia, Singapore and India. For additional information, visit www.idsgrp.com or email information@idsgrp.com.
Media Contact: Ray Wizbowski – rwizbowski@idsgrp.com
Contact
International Decision Systems
Ray Wizbowski
612-851-3200
idsgrp.com

Contact