Creative Wildfire Relief Campaign; Wrap California in Love
BLVR (http://blvr.com), a San Diego based Creative agency launches a Black Friday campaign to raise support for those impacted by the California wildfires. For two weeks, custom-designed wrapping paper will be sold, and 100% of purchase price goes to support the California Community Foundation Wildfire Relief Fund.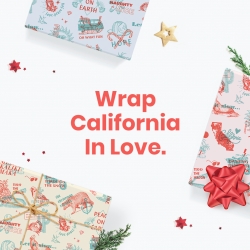 Malibu, CA, November 22, 2018 --(
PR.com
)--
BLVR
is a San Diego, California based brand development and design consultancy. They work with clients like Switchfoot, Tony Robbins, and Bethany Hamilton to name a few.
With so much devastation in our great state it can be hard to know how to make a difference. At BLVR, they think it happens one small gift at a time. So they created the ultimate Christmas give-back - a collection of custom designed
wrapping paper
that helps those affected by the California wildfires.
Their custom designed, California inspired wrapping paper goes on sale beginning on Black Friday (November 23, 2018) and will be available through December 6, 2018. The wrapping paper is $20 and 100% of the purchase price will go to support the
California Community Foundation Wildfire Relief Fund.
BLVR's luxe gift wrap sheets are designed to spread some holiday cheer. Made by the BLVR creative team, this wrapping paper is full of heart and merriness. Purchasers get 4 custom designed (19.5" x 28.5") sheets printed on premium paper.
100% of the purchase price goes to the California Community Foundation's Wildfire Relief Fund to help provide intermediate and long-term assistance to individuals and communities affected by the wildfires. Grants made by the Wildfire Relief Fund support those who were displaced or lost housing, belongings and/or employment, or suffered physical or mental health problems; helped to rebuild homes; basic needs assistance, mental health services and financial assistance. Every purchase will make a big difference in the lives of the people who need it most.
Their goal is to raise as much money possible so they can help those who are in need. Many have suffered great loss, and the recovery efforts are going to take a long time. At BLVR, they know that every penny helps and they just want to do their part as an agency in California. An agency that exists to help make the world a better place.
Contact
BLVR
Scott Hancock
619-823-9367
blvr.com

Contact