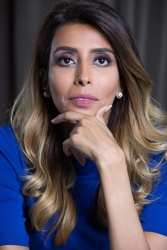 Beverly Hills, CA, November 22, 2018 --(
PR.com
)--
Dr. Sumaya Al Nasser
is the first Saudi citizen to be appointed Ambassador for Peace Without Borders, an organization based in Paris and Manchester with ambassadors and representatives in 42 countries.
Fahad Al Kubaisi
, born in Qatar, is the first Arab Gulf singer to be nominated for a Grammy at the 60th Grammy Awards in 2018 for Best World Album, titled, "Enta Eshq."
Lebanese American Singer
Mayssa Karaa
was the featured vocalist on the Arabic version of "White Rabbit" on the American Hustle Soundtrack and Grammy nominated for Visual Media in 2015.
International, as well as, American celebrity entertainers and music executives will attend. Press welcomed. Celebrity guests will be available for interview at this event.
Press credentials and guest list info: contact Diane Taren at 323-364-4906.