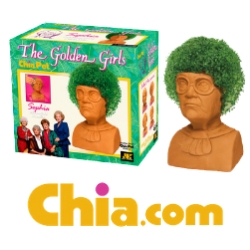 San Francisco, CA, November 23, 2018 --(
PR.com
)-- This holiday season, nothing says "Thank you for being a friend" like the The Golden Girls Chia Pets.
From San Francisco-based Joseph Enterprises, all four of these absolutely fabulous ladies are in stores now, ready to sprout a Chia garden. Are you a Blanche? Is your best friend a Sophia? Whichever is your favorite, fans of the classic TV sitcom will appreciate the attention to detail in these terracotta planters, which come to life in days, with full growth in less than two weeks. Not only are they fun to do, growing a Chia Pet is an educational hands-on activity for kids and parents to do together.
The Golden Girls are just the beginning of the new Ch-Ch-Ch- Chia Pet products arriving in stores and available online for the holiday season.
Fan-favorite character Dustin from the Netflix series Stranger Things is also a new Chia Pet, as are Rick and Morty from the edgy cartoon series.
And let's not forget one of the all-time Chia fan favorites: Bob Ross!
Chia Pets continue to be a holiday favorite for people of all ages, perfect for everything from personal gifting to office party gift exchanges. With this year's new line-up, there's fun waiting for everyone with Chia Pet products like:
Groot from "Guardians of the Galaxy" – even cuter now as potted version
Deadpool – probably the coolest Chia Pet in existence
Fingerlings – the toy sensation is now a Chia Pet too
Slimer from Ghostbusters
Gizmo from Gremlins
Good Luck Bear from Care Bears
You can also pick up some of 2018's bestselling Chia Pets, in stores again for the holidays. Bring home a Chia Bob Ross or Chia Pet Deadpool, or for your feline friends choose the Chia Pet "Snoozing Kitty" Cat Grass Planter.
Chia Pets are easy to do and fun to grow again and again. The handmade decorative planter delivers full growth in 1-2 weeks using the simple included instructions. They can be reused indefinitely, too! Each comes with a packet of Chia seeds good for 3 plantings.
Chia Pets are available in stores during the holidays at fine retailers like Walgreens, Target, CVS, Rite Aid, Bed Bath & Beyond, Walmart and more, and retail for under $20.
To learn more or find a store location, please visit
www.chia.com
Media Inquiries:
newidea@jeiusa.com