Puerto Vallarta Starts 24th Edition of International Gourmet Festival
Event takes place Nov. 23 to Dec. 2 in Mexico's leading culinary beach destination.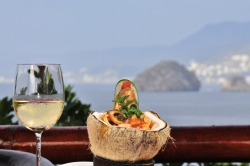 New York, NY, November 27, 2018 --(
PR.com
)-- The 24th edition of the International Gourmet Festival started this weekend with the participation of restaurants in Puerto Vallarta, Riviera Nayarit and Tepic. Taking place until Dec. 2, the culinary festival is one of the most important of its type in Mexico and generates over $600,000 in restaurant and event participation.
Some of the events taking place at the IGF include: Sabores de Oaxaca at La Leche, Mole and Mariachi Night at Café Des Artistes, the French Connection at Kaiser Maximilian and the traditional Gourmet Safari, which takes participants to four restaurants in Puerto Vallarta's historic center.
Host restaurants of the Gourmet International Festival are: Azafrán Restaurante Bar, Café Des Artistes, Coco Tropical, Da Simone, Emiliano, Icú, Maximiliam Kaiser, La Leche, La Patrona, Pampas Grill, Le-Kliff, Loma 42, River Café, Stars, Trío, Andrea, Boca Dosstk, Bordeaux, Epazote, La Casona, La Corona, Le Delice, Mikado, Mozza Mare, Piaf, Rojo Corazón and Tuna Blanca.
Among the chefs who will participate are Ricardo Muñoz Zurita, considered the ambassador of Mexican culinary art around the world; Steve Benjamin, executive chef of the Waldorf Astoria in Beverly Hills; and Carlos Gaytán, the first Mexican to receive a Michelin star.
"The International Gourmet Festival makes Puerto Vallarta a benchmark in world cuisine," said Javier Aranda Pedrero, director of the Puerto Vallarta Tourism Board. "It brings attention to our excellent restaurants, many of them with spectacular views of the Bay of Banderas and its beautiful beaches -- an ideal setting for patrons to enjoy delicious gastronomic offerings while enjoying the most beautiful sunsets of the Mexican Pacific."
The first International Gourmet Festival was held in 1995, the brainchild of renowned European chefs Thierry Blouet and Heinz Reize. Five years later, they were joined by another great chef, Roland Menetrey, and the trio would gain fame as Puerto Vallarta's "culinary Three Musketeers." The three chefs have since set up shop in Puerto Vallarta, where they have fallen in love with the destination's beautiful Bay of Banderas, which they have found to be the perfect setting to fuse their refined cuisine with the ingredients that this land offers.
Six hotels and six independent restaurants participated in the first edition of the IGF, and it is estimated that more than 23,000 people have participated in the festival's many activities. The original format of the festival remains unchanged: Each participating restaurant invites a celebrity from the world of culinary arts, so that diners enjoy this extraordinary fusion of chef and destination.
For more information on the International Gourmet Festival, please visit www.festivalgourmet.com.
For more information, please visit https://www.enroutecommunications.com/category/news-room/
Contact
Puerto Vallarta Tourism Board
Gustavo Rivas-Solis
917-438-7096
www.visitpuertovallarta.com/

Contact