OVIE LLC Offers a New Customizable Design for the Piggy Bank
The classic savings bank has been given an exciting update in design and personal expression by OVIE. The sleek modern design of the OVIE Bank can be customized to inspire a variety of savings goals. The included non-toxic dry chalk markers are used to personalize the fund title. This unique take on the traditional savings bank will become a favorite for those wishing to stay motivated, showcase their creativity, and watch their saving grow.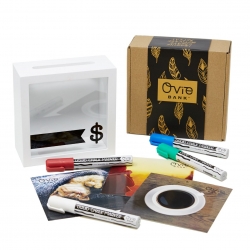 Berkeley, CA, December 10, 2018 --(
PR.com
)-- The OVIE piggy bank comes in a sleek white shadow box wood frame with 3 interchangeable decorative backgrounds and 4 dry erase color chalk markers. The savings bank kit is designed to encourage customization for whatever savings fund is desired. For example, when saving for a honeymoon fund the chalk markers are used to write "honeymoon" and the matching background is placed in the shadow box. The kit helps to create a personal connection to each savings goal and a fun way to track the savings progress as the money bank fills up. OVIE's three inspiring backgrounds are great for visualizing savings goals, and personal photos can be added to the shadow box for further personalize the bank. The included markers are erasable, allowing the OVIE Bank to be reused again and again. Once a savings goal is achieved, the fund name can be changed to create the next savings goal.
Contact
OVIE LLC
Dannielle Oviedo
510-350-8706
myoviebank.com

Contact