FluidChains and ExOFoundation Launch CivX Transformation Economy
FluidChains, Inc. and the ExOFoundation, Inc. launch the CivX Transformation Economy and raise USD 15M from Rokk3r, Inc. for scaling the project.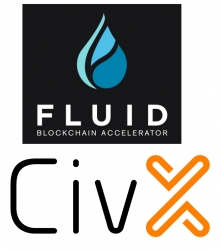 Fort Lauderdale, FL, December 12, 2018 --(
PR.com
)-- FluidChains, a global blockchain technology solutions provider, and the ExOFoundation, an organization dedicated to migrating society to abundance recently launched the CivX Transformation Economy and its native digital asset, the CIVX token. This technology will provide new forms of scalability and vectors of growth for the ExO Ecosystem and family of companies such as ExO Lever, ExO Works, Fastrack Institute, and FluidChains.
The CivX Transformation Economy is the product of several years of work to create a viable end to end blockchain based tokenized economy for ExO Ecosystem.
After successfully developing and implementing the key blockchain toolset, including the heat map, block explorer, staking wallet, cloud wallet, full node, and a blockchain statistics service FluidChains will continue to provide primary service and support in blockchain technology development and operations for the CivX Transformation Economy.
"It was amazing to see something of such complexity launched with such finesse. The FluidChains team made it look easy when clearly, this is not." - Salim Ismail, Chairman ExOFoundation, Inc.
"The CivX Economy was created to tokenize the ExO Ecosystem and provide a scalable means to shared value exchange for all the members of the ecosystem and economy anywhere in the world. We are just getting started." - Kent Langley, Project Lead and Principle Architect
FluidChains, Inc. is based in Miami, San Francisco, and London. It helps its clients design, develop and launch sustainable and impactful blockchain business ventures using principles of exponential organizations. FluidChains application of blockchain helps organizations scale.
ExOFoundation Inc. Is a public benefit corporation committed to positive social change, which convenes a global ecosystem that empowers cities, organizations, institutions, and people with the technology and economic resources, tools and structures to migrate society to abundance. The ExOFoundation is a 20% stakeholder in FluidChains, Inc.
Contact
Fluid Chains
Vanessa Powell
954-309-2316
https://www.fluidchains.com/

Contact