Sitters4Critters Teams Up with "Fear Free" to Become Certified in Providing Stress-Free Pet Care
"Our fear free coaching will allow us to apply our knowledge and tools when we face our wonderful clients' every day," says Tristan Hamburg Owner, Sitters4Critters.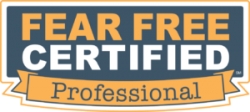 Yardley, PA, December 19, 2018 --(
PR.com
)-- Sitters4Critters, a cuddly pet care company in the Lower Bucks County area, has started its process to become a
Fear Free professional
. The organization, becoming fear-free certified, offers not only to look over clients' natural well-being but their emotional well-being as well; striving to become an example in the community, and be front and center as pet professionals and pet owners alike.
"Our fear free coaching will allow us to apply our knowledge and tools when we face our wonderful clients' every day," says Tristan Hamburg, Owner at Sitters4Critters.
Fear Free was founded by "America's veterinarian," Dr. Marty Becker and has become one of the only life-changing organizations training more than 40,000 pet professionals committed to becoming fear free certified.
Sitters4Critters understands and treats their clients like family, accomplishing "the best" for them. The company, with fear-free education, creates a unique affection-connection called the human-animal relationship.
Sitters4Critters pet sitters, who complete the program, are able to properly handle the dogs and cats that they work with. The purpose of fear free is to ease administering veterinary prescribed medicine and other care. This approach should make the animal have a more enjoyable, stress-free experience with the caretaker. The company also feels pride in using these techniques with emergency animal ambulance services.
Referring to some more news that broke out in December, Sitters4Critters successfully launched its
veterinary pet store
last month in November. During its launch, Sitters4Critters sent out gift boxes to all its valuable clients.
Everyone was pleased to receive these gifts created by veterinarians, says Tristan Hamburg.
The company stated that their relationship with pawTree has created many different opportunities and healthier pets for anybody looking for the best nutritional food and treats for their picky eater.
Highlighting a few of the other services that Sitters4Critters provides to their precious clients is the
poop patrol service
to clean up after pets. The company offers to clean residential and commercial properties around Philadelphia and Bucks County.
In addition to this, Sitters4Critters offers a
pet ambulance shuttle
to transport pets anywhere their clients' want, thus eliminating the hard struggles in getting pets to the veterinarian. Additionally, the company has been working with dog breeders to pet courier their prized show dogs' all over the country.
With the holiday season in the air, the
in-home house sitters
are pretty much popular nowadays. Thus Sitters4Critters ensures that their pet sitters stay in homes typically from 7 pm to 7 am and also provide multiple mid-day visits if needed. Moreover, the company is well experienced in staying for long and short terms.
About Sitters4Critters:
Lifelong Bucks County, PA resident, Tristan Hamburg founded Sitters4Critters in 2013 with the goal of providing the very best service and care for pets whose owners were out of town. The licensed and insured company takes care of all animal types, along with walking, boarding, medication administration, and other duties that go with it. Customers are urged to consider alternative dog/cat boarding options during the holiday season in addition to the comprehensive range of animal care the company provides.
Contact
Sitters4Critters
Tristan Hamburg
866-387-3874
https://www.sittersforcritters.com

Contact