My Custom Tailor is Coming to the U.S. Feb. 2019
Traveling Tailors Itinerary - visiting major US cities; Dates into March 2019 include Los Angeles, Philadelphia, Orlando, and New York City, San Francisco, Miami, Dallas, Houston, many Others.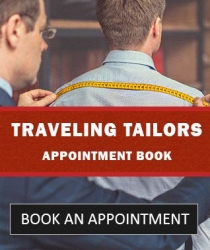 New York, NY, January 10, 2019 --(
PR.com
)-- My Custom Tailor has its Travelling Tailors visiting major cities with all new fabrics this 2019. To prepare for the new year, many are looking to improve upon or revamp an existing wardrobe; My Custom Tailor accepts this challenge and aims to provide its customers with the best quality, best fitting clothes. By attending one of the Roadshow events by My Custom Tailor, customers can meet with Master Tailors for personal one on one, no-obligation consultations, get measurements done or place an order for perfect fitting custom clothes.
In order to make the process as accessible as possible, in addition to the Roadshow Itinerary, My Custom Tailor is also offering personal visits to homes or offices. If you are unable to make it out to one of the Roadshow venues, you may request a personal visit to your office or home from My Custom Tailor Master Tailor (subject to availability).
The tailor will take over 50 custom measurements for a truly bespoke fit given to their hand made garments. Sizes are taken for men's suits, custom shirts, women's suits and shirts, coats and more.
All clothing is then custom made by expert craftsmen and tailors in Hong Kong and shipped directly to the doorstep of the customer.
Old world traditional customization and service is given in a new age setting.
You can book an appointment online at https://www.mycustomtailor.com/women-and-men-custom-tailor-near-you
Those interested can select from the city of their choice and click the box to
make an appointment
. Alternatively, you can also click on the
Contact Us link
at the bottom of the homepage at
www.MyCustomTailor.com
and email them the following information: City, Date and Time to book the appointment.
Refer a friend, colleague, co-worker or bring him/her along to the appointment and get a complimentary custom shirt with your order when they place an order.
The dates and locations for their current upcoming Roadshow for February – March 2019 are:
Los Angeles, CA
07 February 2019 - 09 February 2019
San Francisco, CA
10 February 2019
Oakland, CA
11 February 2019
Denver, CO
12 February 2019
Salt Lake City, UT
13 February 2019
Rapid City, SD
14 February 2019 - 19 February 2019
Chicago, IL
20 February 2019
Boston, MA
21 February 2019
New York, NY
22 February 2019
Arlington, VA
23 February 2019
Washington, DC
24 February 2019 - 25 February 2019
Baltimore, MD
26 February 2019
Houston, TX
27 February 2019
Dallas, TX
28 February 2019 - 02 March 2019
Columbus, OH
03 March 2019
Pittsburgh, PA
04 March 2019
Jacksonville, FL
05 March 2019
Miami, FL
06 March 2019
Orlando, FL
07 March 2019 - 09 March 2019
Atlanta, GA
10 March 2019
Indianapolis, IN
11 March 2019
Chicago, IL
12 March 2019 - 13 March 2019
Kalamazoo, MI
14 March 2019 - 16 March 2019
Detroit, MI
17 March 2019
Philadelphia, PA
18 March 2019
New York, NY
19 March 2019 - 20 March 2019
Whippany, NJ
21 March 2019 - 23 March 2019
Los Angeles, CA
24 March 2019 - 25 March 2019
These are are "By Appointment only" events.
Clients can make their
appointments with the travelling tailor here
.
Contact
My Custom Tailor
Richard Dawson
1-646-257-5886
MyCustomTailor.com

Contact