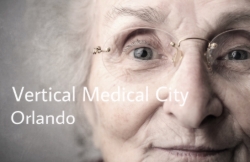 Orlando, FL, December 23, 2018 --(
PR.com
)-- On Saturday, December 22, 2018, the U.S. Federal Aviation Authority issued its Final Determination for Vertical Medical City, new complex medical project for Downtown Orlando by developer Ponte Health Properties, LLC.
FAA approved the larger portion of VMC ORL, a curved structure, to a maximum height of 444 Feet AGL (Above Ground Level).
Vertical Medical City, to be built in the northern portion of the Downtown Orlando Central Business District, will be moving forward with pre-construction testing during the early weeks of the first quarter of 2019 and is currently in the Master Planning Phase.
Additionally in the early Planning Phases is Vertical Medical City Chicago, as well as projected strategic international locations including London and Osaka, per the developer's corporate public records.