ABUKAI Module for Accounting Firms Managing a Large Set of Clients
ABUKAI's Client-Based Management Module Empowers Firms to Easily Manage Clients and Delegate Client Administration across the Staff.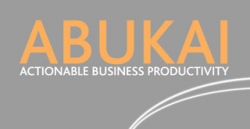 San Francisco, CA, December 27, 2018 --(
PR.com
)-- ABUKAI, Inc., the innovation leader in actionable business productivity software, announced today the ABUKAI Client-Based Management Module enabling accounting and other service firms to centrally manage a large set of clients utilizing ABUKAI as well as delegating administrative tasks across staff.
"Accounting and other service firms may have hundreds of client entities that they would like to manage centrally. They also may have a range of staff among which they want to divide up administrative work. Each client may have very different needs in terms of configuration, approvals and integrations. Our Client-Based Management Module allow firms to conveniently manage their clients through the ABUKAI platform and delegate client administration across their professional staff," said Philipp Schloter, President and Chief Executive Officer of ABUKAI.
ABUKAI's patented receipt recognition technology eliminates the need for accounting firms or other service providers to manually key in receipt or invoice data for clients, enabling a cost-effective service offering for leading firms. ABUKAI automatically recognizes receipt and invoices data globally, categorizes expenses, converts currencies, reads VAT amounts from the actual documents and can automatically upload expense and invoice data to key accounting software. ABUKAI is an official integration partner of Exact, Fortnox, Intacct, Intuit, KashFlow, MYOB, Sage, Xero, and many others, and can integrate with any accounting, ERP, or other backend system. ABUKAI's innovative service drastically reduces the time and effort required to complete expense reports, process invoices, and enter transaction data. ABUKAI also supports configurations where different clients get data uploaded to different systems, all managed through a single management system with the optional Client-Based Management-Module.
The Client-based Management Module can be added on to corporate accounts of any size. Configured clients can have a different configurations and post to different accounting software. The Client-Based Management Module enables firms to manage all their clients through one central platform and delegate client administration across staff members. Accounting and bookkeeping firms can scan receipts directly for some clients, while asking other clients to upload their receipts or invoices through the ABUKAI mobile application or web portal.
ABUKAI has won numerous awards including PC Magazine Editor's Choice Award. Staples declared ABUKAI one of the six best mobile apps for small business.
ABUKAI Expenses corporate customers can request more information by contacting sales@abukai.com to discuss their specific needs.
To learn more about ABUKAI, please visit abukai.com.
About ABUKAI, Inc.
ABUKAI is revolutionizing how companies conduct business by providing ACTIONABLE BUSINESS PRODUCTIVITY™ solutions, which are based on new business thinking and supported by the latest technology. ABUKAI designs and delivers innovative solutions that significantly improve productivity for companies and their employees, while rapidly delivering ROI. Through its break-through, patented technology, ABUKAI Expenses drastically reduces the time and effort required to complete expense reports and increases reporting accuracy. ABUKAI has users at over 50% of Global 500 corporations, and over 50% of the Top 100 Brand companies.
ABUKAI Expenses was awarded the Editors' Choice Award by PC Magazine, and named one of the Top 20 Cloud Services. ABUKAI Expenses was also named "Instagram for Expense Reporting" by Wireless Week, one of the 6 best mobile applications for small business by Staples, and one of the top 5 finance applications by NASDAQ.
For more information, visit
abukai.com
.
ABUKAI Global PR Contact:
press.services@abukai.com
Contact
ABUKAI
Vidya Ravella
+1-415-293-8286
abukai.com

Contact