Ride a "Horse" - Under Water; 3rd Edition of "Poopie Suits & Cowboy Boots" Released
Most books on submarines focus on intrigue and daring missions. "Poopie Suits & Cowboy Boots" eschews this and gives the reader a front row seat to day-to-day life on a nuclear submarine. Be there as you trail Russian nukes, start up the reactor, analyze sonar contacts, figure a torpedo's path by looking through the periscope, and a lot more!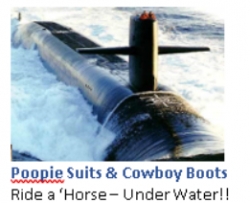 Nashua, NH, December 27, 2018 --(
PR.com
)-- 3d Edition of Poopie Suits & Cowboy Boots Released
Ride a "Horse" – Under water
Imagine riding a Nuclear Submarine – Day-to-Day
Books on nuclear submarines tend to focus on secret missions, intrigue, and hair raising moments.
"Poopie Suits & Cowboy Boots," by comparison, tells the coming of age true story of a young US Navy officer, who volunteers to serve onboard a state-of-the-art nuclear submarine back during the height of the Cold War, and the intense journey he undergoes to get on a boat and earn his coveted Dolphins, the proud insignia of those who earn the distinction, "Qualified in Submarines."
Told in a style that is easily understandable by veterans and civilians alike, this book covers the waterfront of human emotions. Anticipation, Uncertainty, Being a Newbie, Fear, Anger, Sadness, and the telling of many, many funny events along the way.
The authors have dedicated the book to the United States Submarine Veterans Scholarship Fund, and since the first edition appeared in January of 2018, have donated $13,000 to this Fund.
The 3rd Edition is the most complete version yet. With over 100 annotated period photographs, a complete Glossary with submarine lingo, and having had the story vetted by many submarine veterans who volunteered to do so, this version gives the readers an unparalleled front row seat into day-to-day life inside a nuclear submarine. Read about trailing Russian nukes, conducting "normal" sea ops, firing a torpedo, how the reactor works, how sonar works, what we ate, how we could stay submerged for more than 100 days at a time, and a lot more.
The book can be easily ordered by going to
http://www.blurb.com/b/9190021-poopie-suits-and-cowboy-boots-tales-of-a-submarine
. For a limited time, the normal price of $20 for a soft cover has been reduced to $15. This includes a generous donation to the Sub Vet Scholarship Fund.
Contact
Poopie Suits & Cowboy Boots
Frank Hood
207-956-9471
www.facebook.com/2hoodssubbook

Contact