Pegasus Aerospace Develops "ShockWave Tactical UAS" for Government, Law Enforcement, S.W.A.T. & Private Security Applications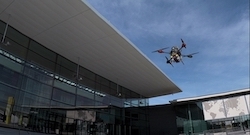 Destin, FL, December 28, 2018 --(
PR.com
)-- Because Lives Matter, and a lack of TRUE Tactical Unmanned Aircraft Systems exist in the UAS marketplace today, Pegasus Aerospace has developed a Tactical UAS for use by Government, Law Enforcement, School Resource Officers and Private Security Firms, to enable them to safely and accurately achieve their missions without risking and endangering first responder lives, in case of a life-threatening situation.
Equipped with multiple non-lethal capabilities, including capabilities for surveillance, intelligence collection and the ability to incapacitate a target from a distance, ShockWave Tactical UAS™ is designed from the ground up to be used outdoors and indoors, is easy to setup and operate and can provide real-time intelligence and surveillance as a force multiplier to government, law enforcement or civil security firms.
The compact solution can be used in a fully autonomous mode or in manual mode, controlled by a custom state of the art flight computer system designed by Pegasus Aerospace, which features the following key components: iLEDD™, is a technology designed by Pegasus Aerospace for the ShockWave Tactical UAS™ which stands for Incapacitating Light Emitting Diode Device. This device emits different colored light flashes and patterns, which act on the target's brain, inducing disorientation, confusion, nausea and in some extreme cases, vomiting. The DTM System™ is a custom Digital Taser Module designed and developed by Pegasus Aerospace for use with ShockWave.
It features cartridges capable of accurately reaching a target 20 feet away. The system features an IR targeting laser, visible on its camera system. The NLLS System™ is a custom designed 12GA Launcher module, designed to fire 12 Gauge non-lethal ammunition, such as the FlashBangs, Pepper or Rubber rounds. The system can be deployed to confuse, disorient and incapacitate a target.
ShockWave possesses a camera system which provides crystal clear 1080p HD transmissions to the pilot and mission commander, as well as a DVR capable of recording the entire mission. A fixed front camera provides a pilot's eye view, with a superimposed HUD system and on a stabilized mount, there is a FLIR Duo Pro R, HD dual-sensor thermal camera. Together these cameras provide the operator with an unprecedented first person view and situational awareness for any operation and in any environment.
With its small transport footprint, agile and readily deployable flight performance compared to other compact non tactical UAV systems, ShockWave gets closer to the action, staying one step ahead, while meeting complex challenges. A modular and cost effective design enables the operator to deliver multiple capabilities and applications, while meeting national aviation regulations and operational requirements.
Eugen Toma, Chief Technical Officer of Pegasus Aerospace and Shockwave's Inventor shared: "ShockWave will neutralize a subject's ability to inflict further harm."
Joseph Erik Mattern, Chief Operating Officer of Pegasus Aerospace and Co-Creator of ShockWave shared: "This Is Going To Be A Game Changer!" "ShockWave will save lives."
ShockWave is IP-64, STANAG 4586, FAA compliant and is ready for use in controlled national airspace across all classifications.
Contact
Pegasus Aerospace
Joseph Erik Mattern
407-574-3344
www.tacuas.com

Contact