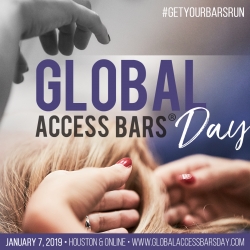 Houston, TX, January 02, 2019 --(
PR.com
)-- Access Consciousness, a global personal empowerment company present in over 173 countries, will host its 6th annual Global Access Bars Day, estimated to reach tens of thousands of participants on January 6-7th, 2019.
Kicking off in Houston, Texas from a live class on January 6th at 5-9pm CST, participants can tune in to the website www.globalaccessbarsday.com for interviews, live footage and entertainment from the founders and facilitators as they cross to Houston, Australia and Vienna in the 24 hours that it will live stream.
Participants will be running bars across the world for 24 hours demonstrating first hand how this technique can contribute to the positive effects on physical, mental and emotional health. Find an event near you or tune in online as over 8000 Access Bars facilitators in over 100 countries will take part in this free online forum.
Access Bars® utilizes pressure points on the head to defragment the electromagnetic components of stress, thought and emotions and has brought relief to thousands internationally. In recent years the conversation around energy, electro-magnetism, consciousness and cutting-edge understandings of physical healing, and energy healing techniques such as Access Bars® have found their way into prisons, schools and businesses worldwide.
The technique has been in practice for over 28 years, but was only performed on this huge international scale for the first time in 2013. This year participants from all over the world, such as in India, Australia, Croatia, the United States will take part in the online event.
"The widespread goal of Access Consciousness is to create a world of consciousness and oneness. During this 6th annual Global Access Bars Day, our hope and target is to bring a sense of peace across the earth and with the people we love, in particular."
- Gary Douglas, developer of the Access Bars and founder of Access Consciousness
http://www.globalaccessbarsday.com
About Access Bars®
Access Bars® has assisted thousands of people to improve many aspects of their body and life including insomnia, health and weight, money, sex and relationships, anxiety, depression, stress, migraines panic attacks, OCD. The effects of Access Bars® are individual to each person and differ from session to session however, in addition to improved physical health, recipients have reported greater intuitive awareness, more gratitude, kindness, peace and calm and easier communication.
A Bars session usually lasts for 60 – 90 minutes and is a process you can undertake as a one-off, monthly, weekly or daily experience.
About Access Consciousness
The aim of Access is to create a world of consciousness and oneness. To get you to the point where you have access to total awareness, with no judgment of anything. ... Consciousness is the ability to be present in your life in every moment, without judgment of you or anyone else. currently available in more than 170 countries. Access tools and techniques have contributed to changing the lives of tens of thousands of people around the world for the past 30 years. Delivered through seminars, teleseries, books, audios and consultations, what most people love about it is that it actually works! www.accessconsciousness.com
For more information or to get involved or to participate in the 6th annual Global Access Bars Day visit www.globalaccessbarsday.com and follow the follow #globalaccessbars & #getyourbarsrun
For media enquiries please contact Justine McKell from McKell Media at justine@mckellmedia.com or at +65 415 144 407 (AUS).